By Tristan Webster, VP of Client Solutions
As an avid basketball fan, March Madness is one of the most exciting times of the year. But does excitement for the tournament translate to viewer attention? For the second year in a row, we analyzed viewer attention to the tournament and will continue to monitor for the remaining games. Looking back on the round of 64 and round of 32, we noticed some interesting trends with real implications for advertisers:
1) Picking an upset in the tournament is hard to do, but it is a surefire way to maximize attention. The average attention index in games that were won by the lower-seeded team was 19% higher than those that went according to the script. But if it were that easy to pick upsets, we would all have perfect brackets right?
2) Heading into the round of 32, we expected attention to increase as tournament interest grew. This was not the case. Attention was fairly evenly distributed across days 1-4 with some of the most attention-grabbing games occurring in the round of 64.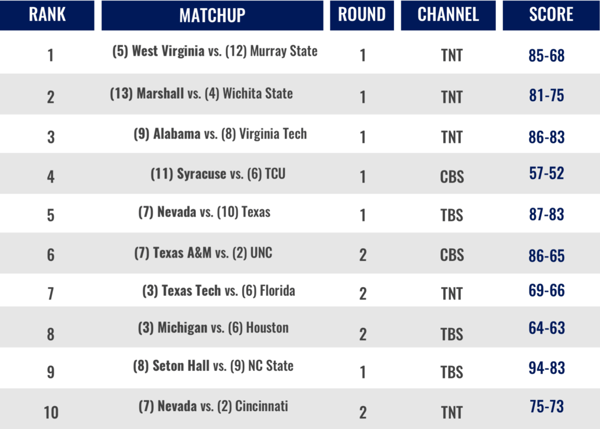 3) Time of day was the best predictor of attention. The early games consistently failed to capture audience attention. Advertisers should focus on games that run later in the day to reduce reliance on an exciting game to drive results.




March Madness Attention by Time of Day
4) But when an exciting game continues to the end, attention follows. Take a look at how Loyola-Chicago vs. Tennessee captures a crescendo of attention as a close game leads to a cliffhanger upset.