The Bachelorette continues to be a dominant primetime event. And while we don't always agree with who gets a rose, the reality show is a great opportunity for brands to reach a much sought-after audience. The show skews as much as 75% female and continues to rank highly for both viewers 18-49 and households with an income of $100,000+. But how can advertisers reach this coveted audience those times of year when The Bachelorette is not on TV?
At TVision, using our industry-leading attention data, we were able to identify and segment individuals that were actively paying attention to The Bachelorette, and pinpoint other programs where they paid attention beyond The Bachelorette itself. To start, we looked at which programs had the highest overlap in viewership with The Bachelorette. Not surprisingly, The Bachelor drew in many of the same viewers.
The Bachelorette Viewers Are Most Likely To View These Five Programs

Primetime only. Excluding news and sports. 8/6/

17 - 8/6/18
However, where it gets interesting is that shows with the most overlap were not the programs with the highest attention. Viewers of The Bachelorette also paid high attention to other reality competition shows like World of Dance and MasterChef as well as fictional dramas such as The Resident and Blue Bloods.
The Bachelorette Viewers Pay The Most Attention to These Ten Programs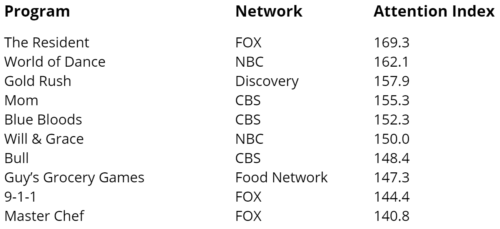 Primetime only. Excluding news and sports. 8/6/17-8/6/18.
With today's changing consumer landscape, it is important to go beyond just age and gender, finding intelligent ways to segment and target by viewing behavior. These insights help advertisers place ads to engaged, targeted audiences, or retarget for premium audiences outside of a single marquee program like The Bachelorette. When done well, brands can uncover less expensive programs, creating opportunities for increased attention and ultimately sales.
Want to find your brand's most attentive TV audiences? Contact us.