This week was a historic one - and not just because of the final trailer of the Skywalker Saga. October 21st was Back to the Future Day (yep, that's actually a thing).
So at TVision, we thought it was worthwhile to compare how today's TV watching stacks up against Marty McFly's future (October 2015) — which, like us, is kind of obsessed with how people really watch TV.
But first, we had to end the debate once and for all - which Back to the Future movie got the most Attention...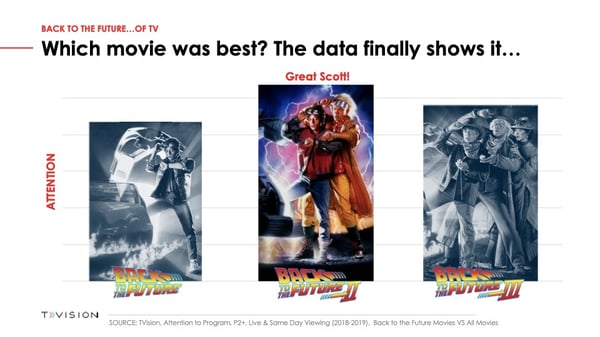 So, the data makes it clear - Back to the Future Part II garnered the most Attention (sorry Clara). And while Marty McFly's future of 2015 looks a bit different from our present of 2019, the way we've watched TV has definitely changed since 1985...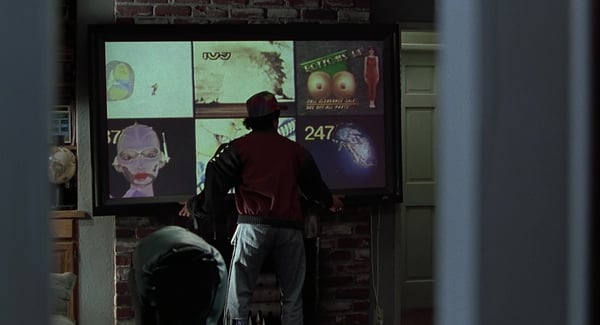 In the movie, Marty Junior arrives home and turns the TV to SIX simultaneous channels. Today we're not turning on multiple channels at once (picture-in-picture doesn't quite do it) - but we are overwhelmed with choice.
Be it something live and linear, or something "over the top" and streaming from Netflix, Hulu, Amazon, or HBO Now (soon to be joined by Disney+, Apple TV+, and NBC's Peacock), there's always something you're behind on watching. According to eMarketer, Netflix and Amazon Prime Video alone have more subscribers than the Top 10 Pay TV services in the US - and they're adding more subscribers every day.
Later in the movie, Marty Senior actually walks into his house to get voice alerts on everything else going on in his world. This is not unlike today - where Alexa (or your Google Home) tells you about the weather, upcoming appointments, or simply answering random questions. At my house, we also have a Chromecast plugged into our TV, so we frequently ask Google to show pictures from a family vacation or play a Netflix show or YouTube clip on the big screen.
IT'S NOT 1985 ANYMORE.
Yet somehow, marketers are still measuring their TV like it's 1985. At TVision, we think TV watching needs to be measured person-by-person, second-by-second, across the variety of devices and applications.
Since the way we watch TV is so much more than just linear, we recently launched TVision Streaming Analytics - our solution that brings our person-level TV measurement to streaming TV behavior - by show, application, or even device. Here's a preview...
It's one thing to know what shows people are streaming the most, but what about what shows people are bingeing or co-viewing the most?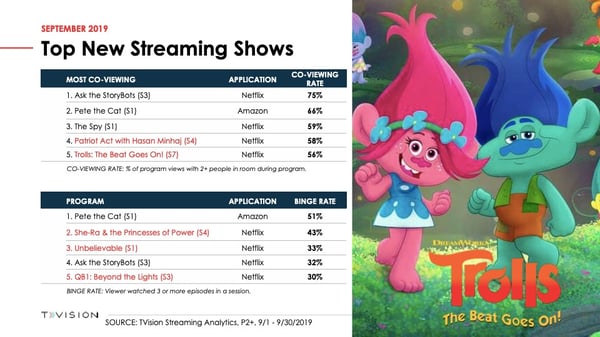 And while you may think advertising is not welcome in streaming, for just Chromecast devices, more than 40% of time is spent with ad-supported streaming applications.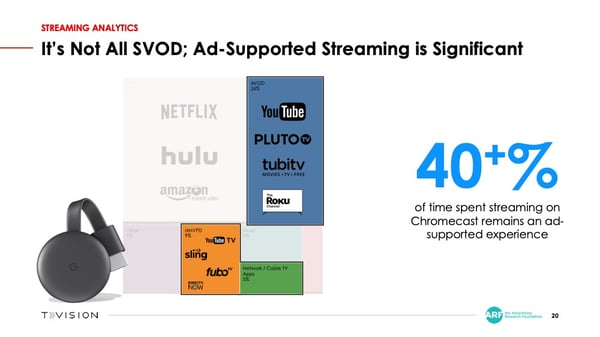 When it comes to WHO's streaming, younger viewers, especially those with children, are driving device adoption. These coveted audiences are watching content, across dozens of apps and screens.
When it comes to streaming - and measuring how people actually watch TV - we've definitely made it BACK to the future. But while we've got the sweet self-lacing shoes, I'm still waiting on my flying cars and hoverboard. And sorry, these still don't count.
=
Want to learn more about the current state of TV and Streaming Analytics? See more of of the above stats in our keynote at the ARF's OTTxSCIENCE, or download the 2019 TV Engagement Report.