Starting this month, in addition to highlighting the best-performing individual ads, we'll also be taking a look at how viewers engage with the largest advertisers within four unique industries. In this post, we'll look back over the past three months to score the top 5 alcohol, insurance, quick-serve restaurant, and retail advertisers - measuring the performance of the industry's top spenders based on their ability to keep TV viewers in the room, with their eyes on the screen while the ads are aired. Note, that engagement metrics are based on TVision insights, but our rankings for ad spend are based on data from Media Radar.
How do we measure TV Ad Viewability and Attention?
The scores in the lists below are pulled directly from our new, easy-to-use platform: Ad Scoreboard. Advertisers use TVision's Ad Scoreboard to track their own TV ad engagement, as well as all their competitors'.
The scores indicate how well the brand captured attention and viewability over the last three months, compared to all other TV advertisers. The Scoring System ranges from 1 to 10. For example, a score of 7 indicates that the brand is performing better than 70% of all the brands that TVision measures. Color coding makes it easy to understand at-a-glance: green is above average, yellow is average, and red is below average.
Attention and Viewability Scores - Largest Alcohol Advertisers
With summer upon us, American consumers are thinking about fun in the sun - everything from picnics and barbecues, to parties on the beach. At most of these parties, beer, wine, and cocktails will play a responsible part. That makes these last few months a big advertising opportunity for the alcohol industry. The chart below illustrates how the largest spenders in this category captured engaged audiences. As you can see, across the board these advertisers have room to improve their overall viewability and attention to maximize the value they receive from their considerable TV advertising budgets.
*Brands are listed in order by total ad spend, based on Media Radar data.
| | | |
| --- | --- | --- |
| Brand | Viewability | Attention |
| | | |
| | | |
| | | |
| | | |
| | | |
Second-by-Second Ad performance: Modelo - "The Fighting Spirit of Damian Lilliard"
Since Modelo scored the highest for attention among alcohol companies in the month, we took a look at how one of their ads grabbed viewer's attention second-by-second . With second-by-second insight into how viewers engage with an ad, marketers are able to pinpoint effective creative strategies. For Modelo, a celebrity spokesperson, a compelling narrative and classic creative elements like crowd noise and tones combined in this ad to garner 37.7% attention overall - slightly above average for all linear TV advertising.
Read on for a look at the ad Viewability and Attention scores for Insurance, Retail and QSR.
Attention and Viewability Scores for the Largest Insurance Advertisers
Month in and month out the insurance industry includes some of the largest TV advertising spenders. Their campaigns, on average, score better than other industries for attention and viewability, but the race within the industry to engage audiences is intense. Because TV ad attention directly impacts brand recall, it's important for insurance advertisers to maximize attention throughout their campaigns.
| | | |
| --- | --- | --- |
| Brand | Viewability | Attention |
| | | |
| | | |
| | | |
| | | |
| | | |
Viewability and Attention Scores for the Largest Retail Advertisers
The retail industry sees some of the greatest variances in Attention and Viewability Scores among the five largest advertising spenders. Retailers with lower-performing attention and viewability scores can look to Amazon media planning for potential opportunities to improve their overall scores.
| | | |
| --- | --- | --- |
| Brand | Viewability | Attention |
| | | |
| | | |
| | | |
| | | |
| | | |
Viewability and Attention Scores for the Largest QSR Advertisers
The quick-serve restaurant industry includes some of America's best-known brands, including Domino's, McDonald's, and Taco Bell. TV advertising is a mainstay in the marketing plans of these large, well-known brands. But the data from Ad Scoreboard shows significant opportunities for these advertisers to optimize their spend in order to reach more engaged viewers.
| | | |
| --- | --- | --- |
| Brand | Viewability | Attention |
| | | |
| | | |
| | | |
| | | |
| | | |
Across the board, advertisers that score in the lower ranges can make significant improvements to their overall scores with careful planning and optimization. With Ad Scoreboard, advertisers can identify opportunities to improve their scores by optimizing to higher performing programs, networks, and dayparts in-flight - after all, there is significant variance in attention and viewability within these factors.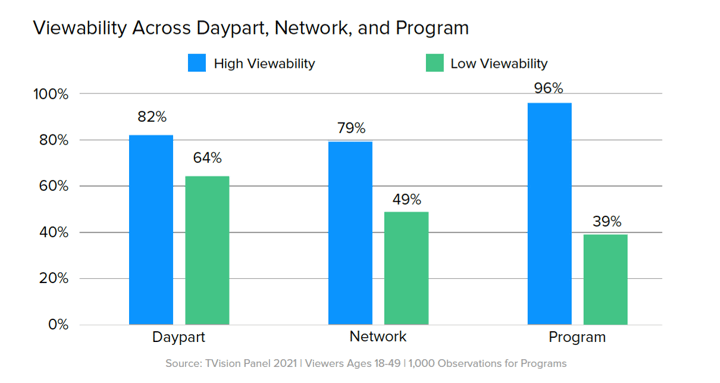 Brands can also use the data to identify the best performing creative with second-by-second analysis, and understand wear-out. Remember to take a look at this month's top performing ads here.
Don't see your brand? Contact us to see how your ads performed.