There was a lot to discuss at the 2022 Oscars - from the red carpet fashions to Will Smith's reaction, but one story we don't want to miss in the post-Oscar analysis is the story of AppleTV+'s CODA.
The first straight-to-streaming movie to win an Oscar, CODA presents an interesting case study. It comes at a time when the movie industry is moving past the pandemic and developing its distribution strategies for a post-COVID world. Simultaneously, viewers are spending more time with CTV than linear and streaming apps are fighting for both subscribers and share of time spent viewing.
According to TVision's data CODA is one of the better-performing programs for AppleTV+ with an Attention to Visible Index of 156.3 since its introduction in August 2021 through March 25, 2022. In comparison, AppleTV+ content over the time period averaged an index of 123.2. CODA's above-average indexes indicate the movie performed better than average for keeping viewers in the room (for all TV content, as well as AppleTV+'s stronger than usual content).
Additionally, CODA was co-viewed 55% of the time, far above ApplesTV+'s typical rate of 39%. Co-viewing is an important metric that accounts for how many people, not just households, actually tuned in. We know that programs that are co-viewed also grab higher attention than shows that viewers watch alone.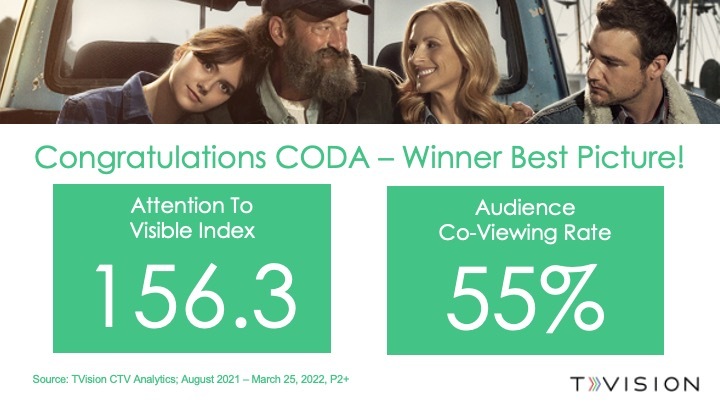 It's also clear in TVision's data that the Oscar nomination in February led to a dramatic increase in viewership for CODA, which registered a 2% share of all time spent viewing CTV original movies in March 2022. This is significant when considering that blockbusters like Turning Red on Disney+ and The Adam Project on Netflix premiered in March, and CODA had been available since August 2021.

What does an Oscar nomination mean for streaming content providers? For Apple, CODA's 2% share of time spent in March compares to other breakout Apple TV+ hits like Ted Lasso. Premium content like CODA and Ted Lasso are the types of programs that can draw in subscribers and keep them tuning into new content. You can see how all apps perform for Share of Time Spent, and how Ted Lasso impacted AppleTV's market share in our recent CTV report.