Everyone likes to stay clean.
Soap, shampoo, skin care products, toothpaste — all these and more are found in every bathroom in every home nationwide. But just because something's ubiquitous doesn't mean it's an easy sell. With hundreds of CPG Personal Care brands vying for share of your cabinet, it's a crowded market.
Using our cutting-edge measurement solution, we analyzed the TV Attention of CPG Personal Care brands, with results varying widely across different types of media and programming choices. Let's take a look.
Soap and sports don't mix.
At least, not where TV Attention is concerned. Popular sports events like NCAA College Basketball, college football and even the NFL did not deliver high Attention for CPG Personal Care brands. Nor did Spanish-language shows like Cómo dice el dicho, or news program Despierta América. The big winners, though? Popular sitcom favorites like Will & Grace and The Goldbergs, and soap-opera standbys including The Young and the Restless and General Hospital.
Some CPG brands are making smart calls.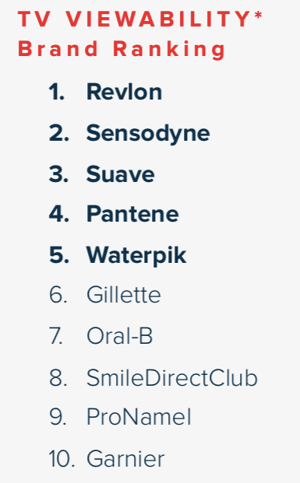 Revlon, Sensodyne, Suave, Pantene and Waterpik all scored highly in our analysis of TV Attention. Despite lots of market-buzz, Dollar Shave Club came in further down the list — as well as Head & Shoulders, whose TV Attention average fell 3.5 percentage points below our average of CPG Personal Care brands -- and 6.4 percentage points below another competing hair care brand.

With TV viewing habits changing than ever, there's no such thing as a sure thing.
Are you a CPG Personal Care brand who wants a competitive edge in a dynamic and rapidly shifting media marketplace? Download our CPG Personal Care Industry Report now.