TV is big business, and award shows and other special entertainment events are the biggest of all. With audiences reaching into the hundreds of millions, it's a marketer's best shot at getting their brand in front of as many people as possible.
So you'd think that these big events, including the Oscars, Grammys, and Golden Globes, would deliver high Ad Attention, right? They're certain to get your ad the most Ad Attention possible, right? That's been the prevailing wisdom… but how does it actually hold up?
Today's cutting-edge analytical tools give us wider, deeper insight into TV Ad Attention than ever before. So we used those tools to find out how award shows really benefited the brands that invested in them. And what we found was fascinating.
So which award show had the highest TV engagement in 2019? For TV Attention - when consumers stayed in the room during commercials - the Country Music Awards took the top spot. For TV Attention - when consumers kept their eyes on-screen during commercials - the Country Music Awards again took the win!
Digging deeper into the Oscars -- a top performer for Ad Attention -- our analysis revealed that the big winner for the night was not another film studio, but a luxury automaker: Lexus. Another interesting takeaway: ad buys for big-ticket film previews actually performed better during music awards shows (2019 Billboard Music Awards and the 54th Annual Academy of Country Music Awards), instead of the Oscars or Golden Globes, albeit with smaller audiences.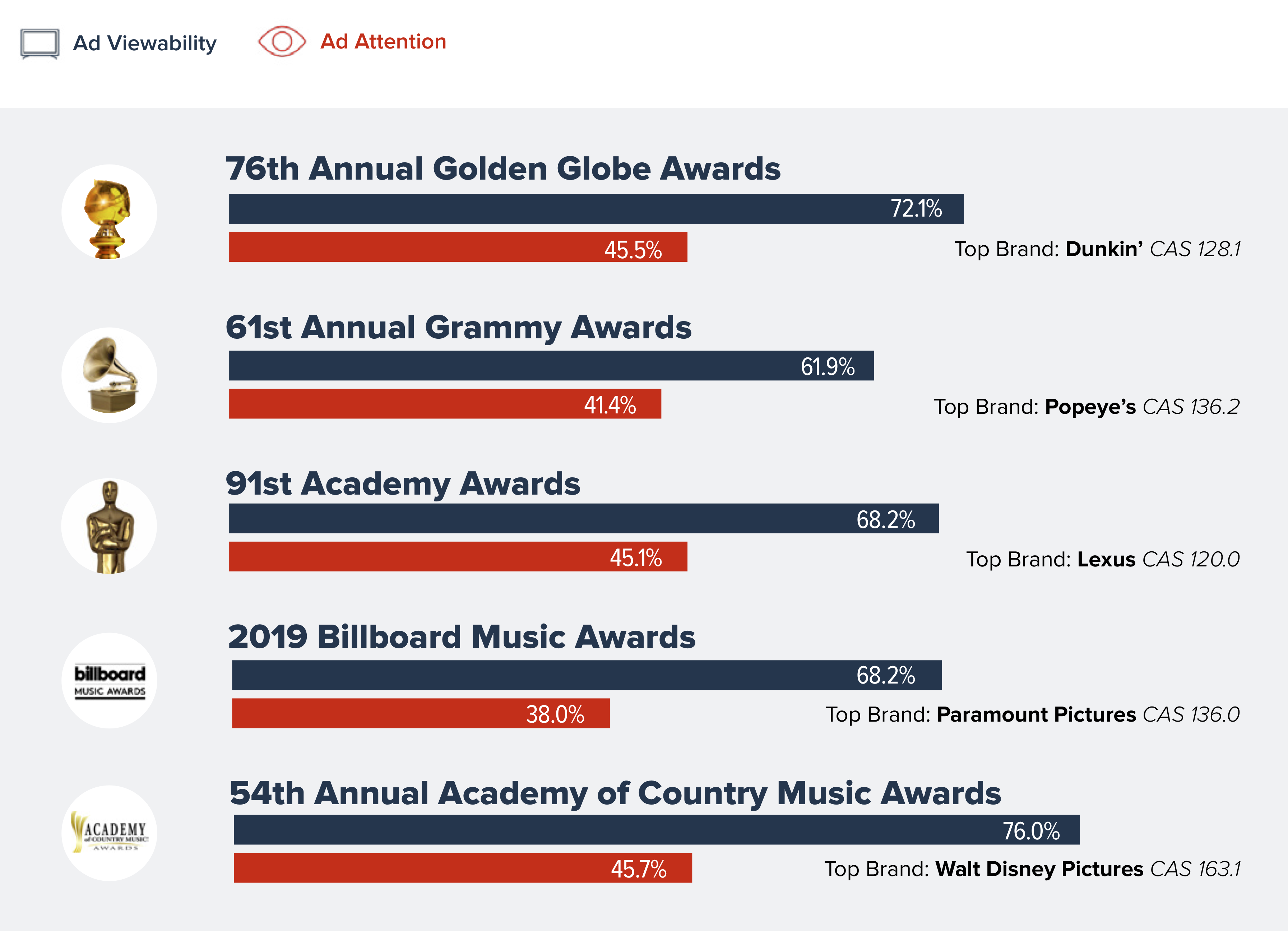 Award shows are a tried and true way to make a big splash for your brand. But how can you target your spend more effectively? What's the sweet spot that your brand needs to find to bring home the gold? Read more in the H1 2019 TV Engagement Report, and let's talk about how we can put our cutting-edge tools to work for you.