It's perfectly natural. You're watching that cooking show, and the only thing distracting you from the rumble in your stomach is the thought of going to the store and buying everything in sight. For CPG food & beverage brands such as candy, snacks, cereals, refrigerated, non-perishable, and even beverages, that's the idea that drives TV spending. But it's not a foolproof tactic. We used our cutting-edge technology to identify top performers in food & beverage, and the results were surprising.
Food shows: Some hit, some don't.
TV favorites such as Good Eats, Good Eating: Reloaded and Man v. Food all provided high attention for CPG food & beverage brands. But food-oriented shows aren't automatically a great way to allocate your media spend. Interestingly, seasonal cooking shows such as The Spring/Halloween/Holiday Baking Championship and syndicated favorites like Gilmore Girls and Parks & Recreation were less able to keep viewers in the room for their ads.
Everyone likes the staples.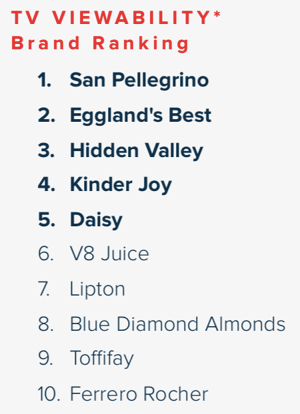 In our attention analysis, brands offering staple products such as eggs, salad dressing, and dairy products stood out from the pack, such as Eggland's Best, Hidden Valley, and Daisy. Other high-performing brands include San Pellegrino and Kinder Eggs. But even the staples aren't bulletproof; several iconic brands fell below the average attention for national food and beverage brands.
Our insights reveal that in today's media landscape, there's no such thing as a sure thing; the perceived popularity of a TV program doesn't always automatically translate into attention.
So how does your brand stack up against the rest? Download our CPG Food & Beverage Report to find out where you stand.