The Advertising Research Foundation's AUDIENCExSCIENCE conference brings together some of the leading minds in advertising research to review new methods, discuss technology innovations, and advance our industry's approach to measurement.
At this year's event in Jersey City, beyond enjoying the scenic views across the Hudson of our NYC home, our team participated in a range of interesting conversations about the future of media - across TV and digital.
Here are the highlights from what we heard on-stage and around the conference...
1. Privacy is Paramount.
The ARF formally unveiled their new Member Code of Conduct - and TVision is proud to be among the first signatories. The Code requires participants to act with honesty, integrity, transparency and trust, with an emphasis on making sure that personally identifiable information (PII) is only collected with the consumer's consent.
At TVision, our data comes exclusively from a privacy-safe, 100% opt-in panel of TV viewers. As consumers, regulators, and industry bodies continue to monitor how companies collect and use customer information, it will only become more important for all of us to enact robust, trustworthy privacy policies.
2. Cross-Platform Measurement Remains the Holy Grail.
Cross-platform measurement has long been a priority for marketers, and the growth of digital video is only making things that much more urgent. Over the course of AUDIENCExSCIENCE, several companies shared new methodologies for tracking cross-platform reach.
George Ive from the Media Rating Council explained MRC's new standard for measuring cross-platform video, and it appears we'll have a new, standardized currency by 2021.
Of course, we all still have lots to learn and discuss. As TVision presented during our AUDIENCExSCIENCE session with Roku on OTT viewing habits, there are significant differences in how people pay attention to ads and content, depending on which platform they're watching on. Meanwhile, vendors, publishers and advertisers remain split on exactly how Attention should be calculated. At TVision, we of course have a point of view, and look forward to continuing the conversation with industry stakeholders.
3. TV has a Attention Problem — and the Industry is Working to Solve it.
TV sttention has been one of the hottest topics in the measurement world of late, so it's no surprise that AUDIENCExSCIENCE panelists spent a good deal of time seeking to define what actually constitutes a viewable TV ad.
Our friend Corey Jeffery at Kantar Millward Brown gave a great presentation discussing his firm's recent TV attention research report, which found that about 30% of traditional TV ads air while no one is in the room to see them. This lines up with IPG Media Lab's research with TVision data. Their report found that about 71% of linear TV ads meet our standard of attention, defined as any ad that airs for two seconds or more while a viewer is in the room to see it.
While there is still lots of debate over TV attention standards, we're excited that companies like Kantar are partnering with advanced TV measurement solutions to measure what was once unmeasurable, and drilling down to define the opportunity to see.
4. Data Quality Matters.
While advertisers have previously focused on the quantity of the so-called "big data" they use to target consumers, marketers are increasingly turning their attention to the quality of this data.
After all, some data is collected more recently than other data, or from more direct sources. At AUDIENCExSCIENCE, our friend Robin Opie from Oracle Data Cloud presented research showing a 5x difference in car purchase rate between audiences targeted with the best data and those targeted with low-quality information.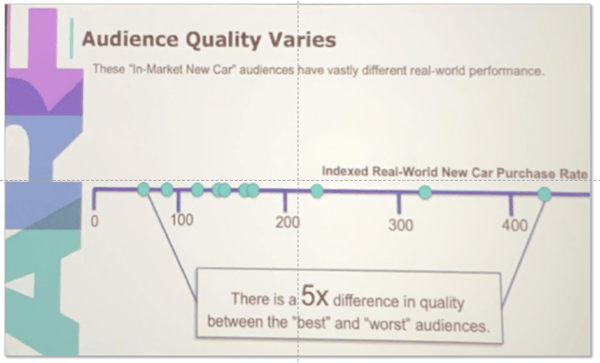 In order to help us sort the good data from the bad, ARF has introduced a data certification program that will allow advertisers to validate certain methodologies and data sets. Given the massive importance of data targeting to the modern marketing plan, quality verification programs are critical to ensuring that brands are really reaching the right customers.
---
Looking for last year's ARF AxS recap? Click here. Or read more coverage on AxS 2019 here.
Header Photo Credit: Gwen LaFantasie