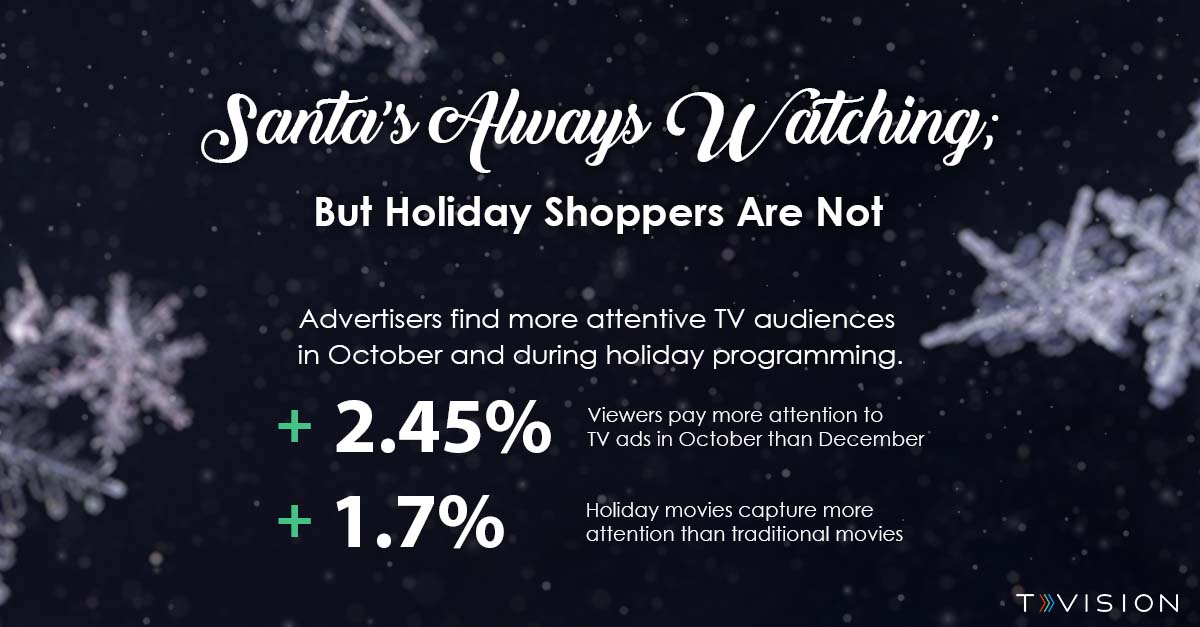 The holiday season is a magical time, full of wonder, and surprises, but for marketers, it's one of the most critical times to drive sales and brand awareness with TV advertising. Simply put, advertisers can't rely on magic and there is no room for surprises in the budget. This holiday season marketers are dealing with several complicating factors as they try to capture attention and engage audiences.
Here we take a look at how holiday ads have performed historically and provide some tips for marketers seeking to make the most of their holiday ad budgets.
The Most Wonderful Time of the Year (is October)
It's a familiar lament from consumers that the holiday season starts earlier and earlier every year. Shoppers feign surprise when they see Christmas decor in October, but it turns out that marketers are onto something with their early promotions. When it comes to capturing consumer attention with holiday ads, ads that run in October and November capture more attention than those that run in December. Whether it's holiday fatigue, ad wear out, or other distractions, TV viewers pay 2.45% more attention to ads in October than December.
Attention to Holiday Ads is Decreasing Year-Over-Year
Source: TVision panel, p2+, 30 second ads only, November - December of 2018, 2019, 2020.
Best Buy Makes the Nice List 3 Years Running
When it comes to holiday advertising, a few companies are consistently breaking through to achieve higher attention than their peers. Best Buy secured a top three attention score in each of the last three years. Target and Wayfair also made the top ten each year. It's worth noting that in 2020, only sister brands Gap (43.4%) and Old Navy (41.2%) captured more attention than the average linear TV ad (41%).
Chart: The 2020 Top Ten for Holiday TV Advertising Attention
A Special Gift to Advertisers: Holiday Movie Classics
When it comes to media planning for December, marketers can offset the drop in attention by aligning their advertising creative with holiday-themed content. Holiday movies capture .6% more audience attention than other movies on linear television and 1.7% more attention on streaming platforms.
Santa's Always Watching; But Viewers are Not
With the holiday season critical to retailers' ability to turn a profit, marketers must fight for every second of attention. But, overall, consumers have paid less attention to TV ads in each of the last three years. Viewers paid almost 10% less attention to holiday-season TV ads in 2020, than in 2018.
What can a marketer do to make sure their holiday creative breaks through?
Identify the right mix of high-attention dayparts, networks and apps
Optimize in-flight to ensure high-performing creative
Watch for wear-out and understand how repetitive ads impact attention
Front-load holiday advertising in October and November, months that are proven to deliver higher engagement.