The best advertisers are experts at storytelling.
According to the classical model of three-act storytelling, there is a beginning, a turning-point event, and resolution in the end. This is the key to understanding the most Attention-grabbing ad of 2019 so far.
So who was H1 2019's most engaging advertiser?
Volvo.
Using our cutting-edge, second-by-second measurement technology, we found that Volvo's"Follow No One," was the most engaging ad. How did Volvo do so well at grabbing viewer Attention and keeping it? A little science…and a lot of poetry.
At 0:02, a shot of a gleaming red Volvo grabs viewers' attention right off the bat. A voiceover reciting the E. E. Cummings poem "A Poet's Advice to Students" provides inspirational uplift while a throbbing electronic score delivers driving energy.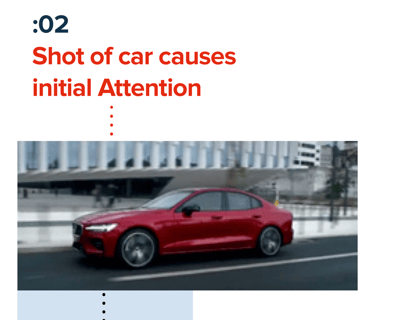 The ad's protagonist pushes through a suited crowd and arrives at his vehicle and at the 0:18 mark (roughly two-thirds of the way through) a shift in the music and tone grabs viewers' attention again, with the climactic moment 0:26 delivering its tagline, "Follow No One," and the Volvo logo.

Impactful words, striking visuals, intense music, and a strong narrative foundation: All elements which Volvo successfully leveraged to create H1 2019's most engaging ad. What can that mean for you? Let's talk. We can deliver the deep-dive insights you need to transform your brand's future.
To view more second-by-second creative analysis, visit T.Vision/TopAds.