by Tristan Webster & Connor Gerson
Is streaming the solution to Hollywood's woes during the COVID-19 pandemic? The answer, based on current trends, depends on how you interpret the data.
First, a little context. The COVID-19 pandemic has hit the movie industry hard, particularly at the traditional box office. Even before the ongoing public health crisis shuttered theaters nationwide, ticket sales had been on the decline since peaking in 2002. That led moviemakers to an increasingly conservative strategy: putting more and more resources into fewer and fewer "blockbusters," with highly targeted release dates and an accompanying PR and merchandising blitz.
When COVID-19 hit, the major studios frantically looked for ways to recoup investments on blockbusters that were already in the can, with planned 2020 release dates. Streaming was the obvious solution, and most major studios immediately made the pivot. As Variety reports, Sony began accepting bids from streaming services for the Tom Hanks WWII eipc Greyhound, evenually selling it to Apple. Likewise, Paramount sold The Lovebirds to Netflix and STX sold My Spy to Amazon.
The Variety article also noted that another approach "is to push movies once geared toward theaters onto streaming services that are owned and operated by the studios themselves. That's an approach being taken by Disney."
An Inflection Point?
A pair of blockbuster releases on Labor Day weekend afforded a unique opportunity to take the pulse of the film industry. Disney unveiled the live-action remake of the classic Mulan, made at an estimated cost of $200 million, while Warner Brothers released Christpher Nolan's Tenet, which cost an estimated $225 million. Each studio opted for a different strategy to try to recoup their investments.
Warner Brothers tried a damn-the-torpdoes approach, hoping that movie goers would be eager enough to see Tenet that they would overcome their anxiety about seeing it in one of the theaters that has recently reopened.
Disney, on the other hand, went all-in on streaming. And unlike other recent titles such as Trolls: World Tour that released as a premium VOD title through cable TV providers, Disney elected to launch exclusively through its own streaming service, Disney+. In addition to the monthly subscription cost, this was highlighted as its first "Premier Access" title.
In a streaming world, where we are accustomed to complete, unrestricted access once we sign over our subscription dollars, this was a change in consumer behavior and many were wondering if audiences would pay the $29.99 price tag. After all, the title will be available to subscribers for free in three months.
The verdict? Mulan has garnered between $60 million and $90 million in streaming revenue, while Tenet has done just $36 million in live box office. "Tenet was definitely sickened by COVID-19, and only streaming can save it now," Forbes concluded.
The Atlantic offered a less harsh take: "Neither the Mulan nor the Tenet approach has been entirely successful."
True. In this comparison success is a relative term. While it does seem clear that Americans simply aren't comfortable yet returning to the theater in larger numbers, the results on streaming are more nuanced. A deeper dive into Mulan's release on Disney+ tells the story.
Comparing Apples to Apples
Mulan's $200 million budget skews superficial comparisons. Obviously, Disney would not have authorized an investment of that size for a film intended as a streaming-only launch. So we need to start by comparing apples to apples — meaning we need to look at the success of Mulan's launch on Disney+ relative to other launches on Disney's streaming service.
Using data from TVision's panel of 5,000 homes, we watched closely to see how the launch performed. By all accounts it was a resounding success: ~7% of Disney+ subscriber homes watched five minutes or more of the film. To put this in perspective, this equates to ~2% of TVision panel homes. Parsing the data, we concluded that the Mulan launch accomplished two important goals:
Attracting New (and Different) Households to the Disney+ Platform
The Disney+ subscriber base is unique. It has almost twice the rate of homes with children than the rest of our panel. This should not surprise anybody. The content library is rich with programming targeted at younger families. With the launch of Mulan, we saw Disney+ increase its household penetration by 0.5% — suggesting that not only were households willing to pay the $29.99 to acquire "Premier Access," but they were also willing to sign up to a new streaming service to consume it.
Going further, the new subscribers look nothing like the Disney+ core audience. They are on average older (median age of 47 vs 36) and are far less likely to have children in the home (31% vs 47%) than the typical Disney+ subscriber.
Average Age of Disney+ Subscribers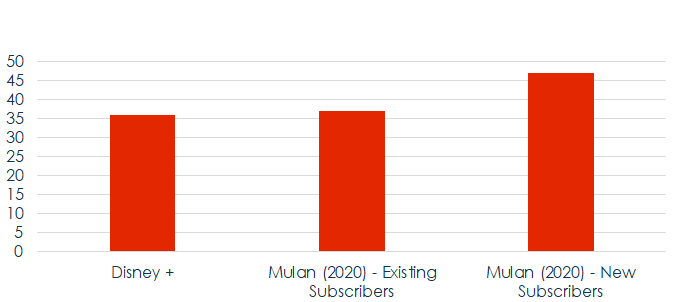 The release of Mulan, in addition to driving revenue, has attracted a more diverse audience to the Disney+ platform.
Maintaining Steady Viewing across the Launch Weekend
Our analysis showed steady viewership across each day of the Labor Day weekend, when the film was released. And the skew toward an older audience than is typical on Disney+ was consistent with the film's more adult-oriented positioning. Female viewers comprised the majority of the audience and, in many parts due to the new subscribers, the average age of the viewer was higher than we have seen in the past for Disney+ content.

A Clear-Headed Conslusion
Do the relative revenue numbers of Mulan and Tenet signal the end of the live theater-going experience in American cinema? It's simply too early too tell. Until the COVID-19 pandemic subsides to the point where large numbers of Americans feel comfortable leaving their homes to watch a movie, any marketing strategy that depends on in-person attendance remains extremely risky.
One thing does appear certain, however: Based on the encouraging results of the Mulan launch on Disney+, streaming will become an even larger component of every major studio's marketing strategy.