Independents Are Most Engaged With Ads
As the mid-term elections approach, candidates and Super Pacs will spend an estimated $2.1 billion on linear TV and approximately $300 million on CTV advertising. Using TVision's Ad Scoreboard, we evaluated how much attention different audiences are paying to political ads - specifically if the ads are capturing attention from their Democrat and Republican base, and engaging those crucial independent voters.
We know that ad attention directly correlates to both aided awareness and ad recall for brand advertisers. Assuming the same holds true for political ads, Attention may be an important early indicator of how engaged voters will be this November. In the blog below, we share some important insights for political advertisers and prognosticators so they can better understand how viewers from across the political spectrum are engaging with ads, and where they are paying the most attention.
KEY TAKEAWAYS:
Viewers are tuned in to the mid-terms: TV audiences are more likely to be in the room and paying attention when political ads run compared to all other TV ads.
The swing voters are paying attention: Independents paid more attention to TV advertising than Republicans or Democrats.
News channels offer opportunities to reach the base: Republicans pay the most attention to Fox News and Democrats to MSNBC.
Super Pacs are grabbing attention: Democratic Super Pacs are capturing attention in major urban demos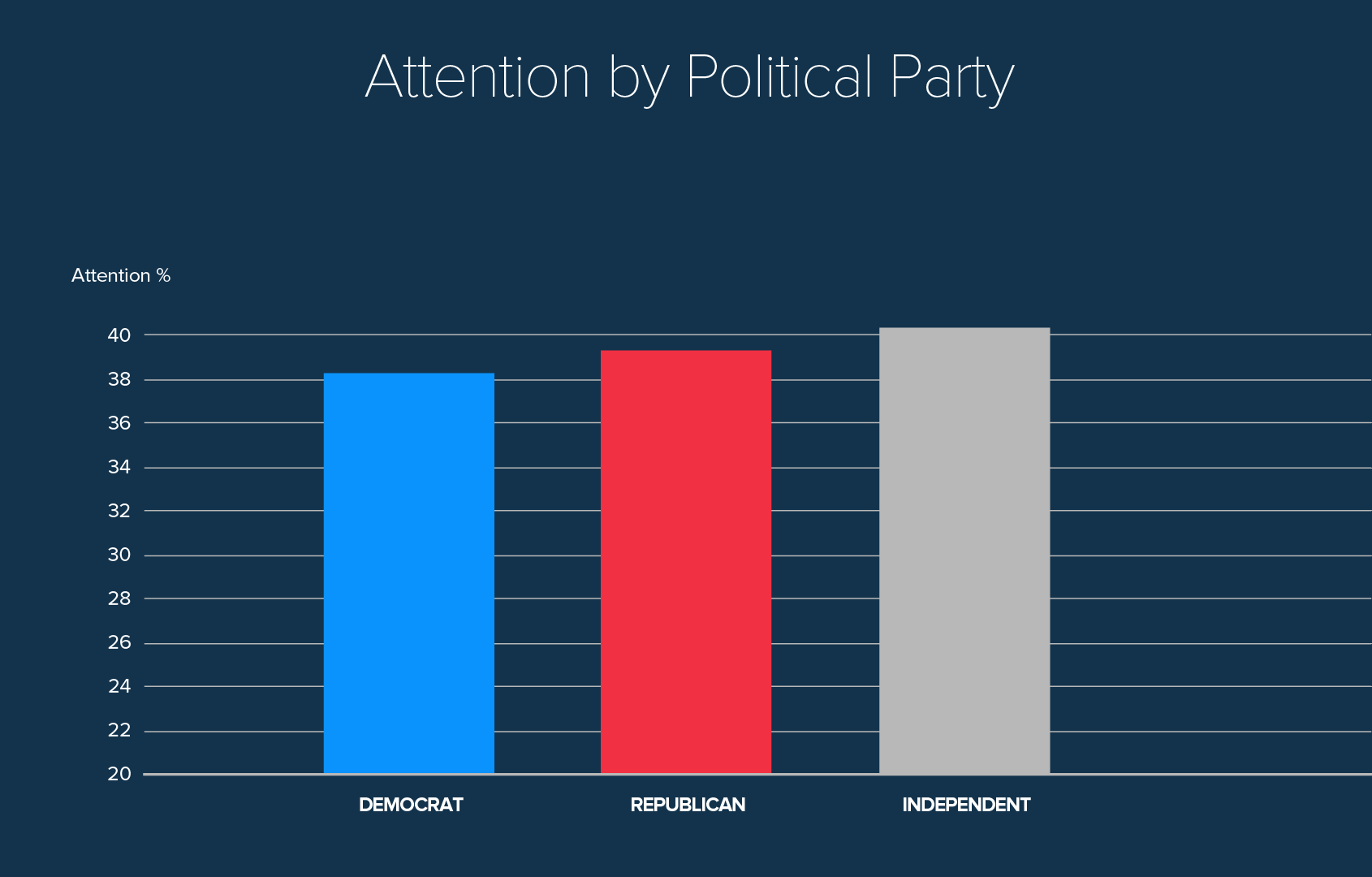 The Elections Have the Attention of American Viewers
Those in the TV advertising industry know that it can be hard to capture viewer attention with TV advertising. In the period studied, the average TV ad captured attention from 37.4% of viewers for at least 2 seconds, but viewers engaged more with political ads (38.7%). Even a 1% variance in attention is noteworthy.
What's especially interesting is that viewers stayed in the room 22% longer, and paid attention 15% longer to political ads than all other ads, suggesting the messaging, and creative elements are engaging viewers.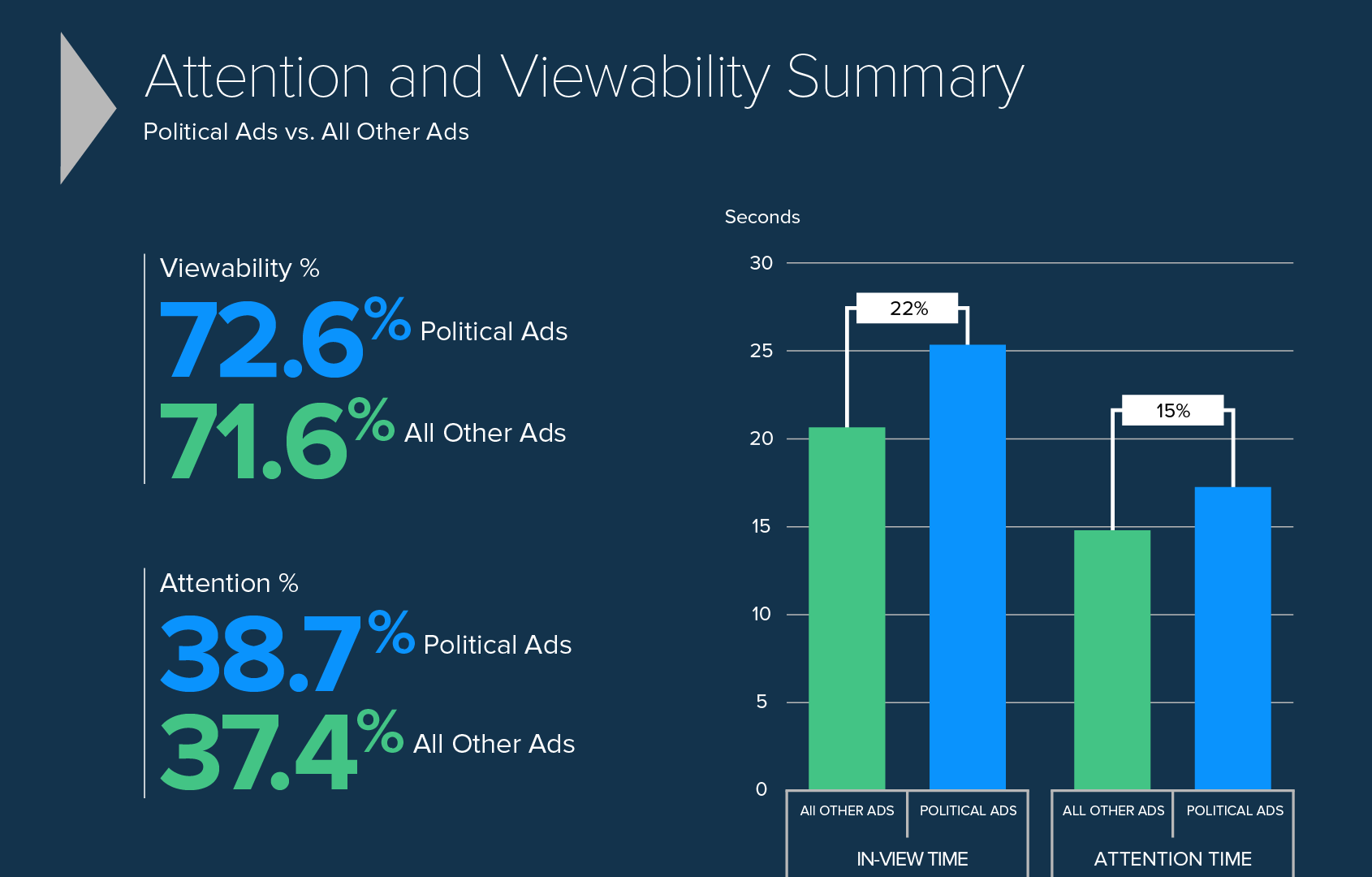 Independents Are Paying More Attention to Ads than Democrats or Republicans
Importantly for candidates and causes in critical swing states, TVision panelists that identify as Independent are paying the most attention to TV advertising, suggesting that there is still an opportunity to engage voters outside of the base.
Politicians and Super Pacs interested in engaging these political viewers may want to leverage TVision's new digital audience segments. We've combined our panelists declared political affiliations along with TV viewing behavior to create targetable political audiences. Our political segments include Engaged Republicans, Engaged Democrats, Unengaged Republicans, Unengaged Democrats, and Low News Viewers. As an example, "Engaged Republicans" will reach declared Republicans who also are heavy watchers of Fox News. Likewise, "Unengaged Democrats" will reach declared Democrats who are not heavy watchers of TV news. All audiences are available in LiveRamp. Learn more by downloading this PDF.
Viewers 18-24 Are Engaging with Political Ads at Higher than Average Rates
Older viewers pay the most attention to TV advertising, and this holds true for political advertising as well. But the notoriously hard-to-engage 18-24-year-old demo is paying more attention to political advertising than other advertising - a possible indicator that young voters are especially interested in the mid-term election cycle. Younger viewers are paying 12% more attention to political ads on CTV than non-political ads.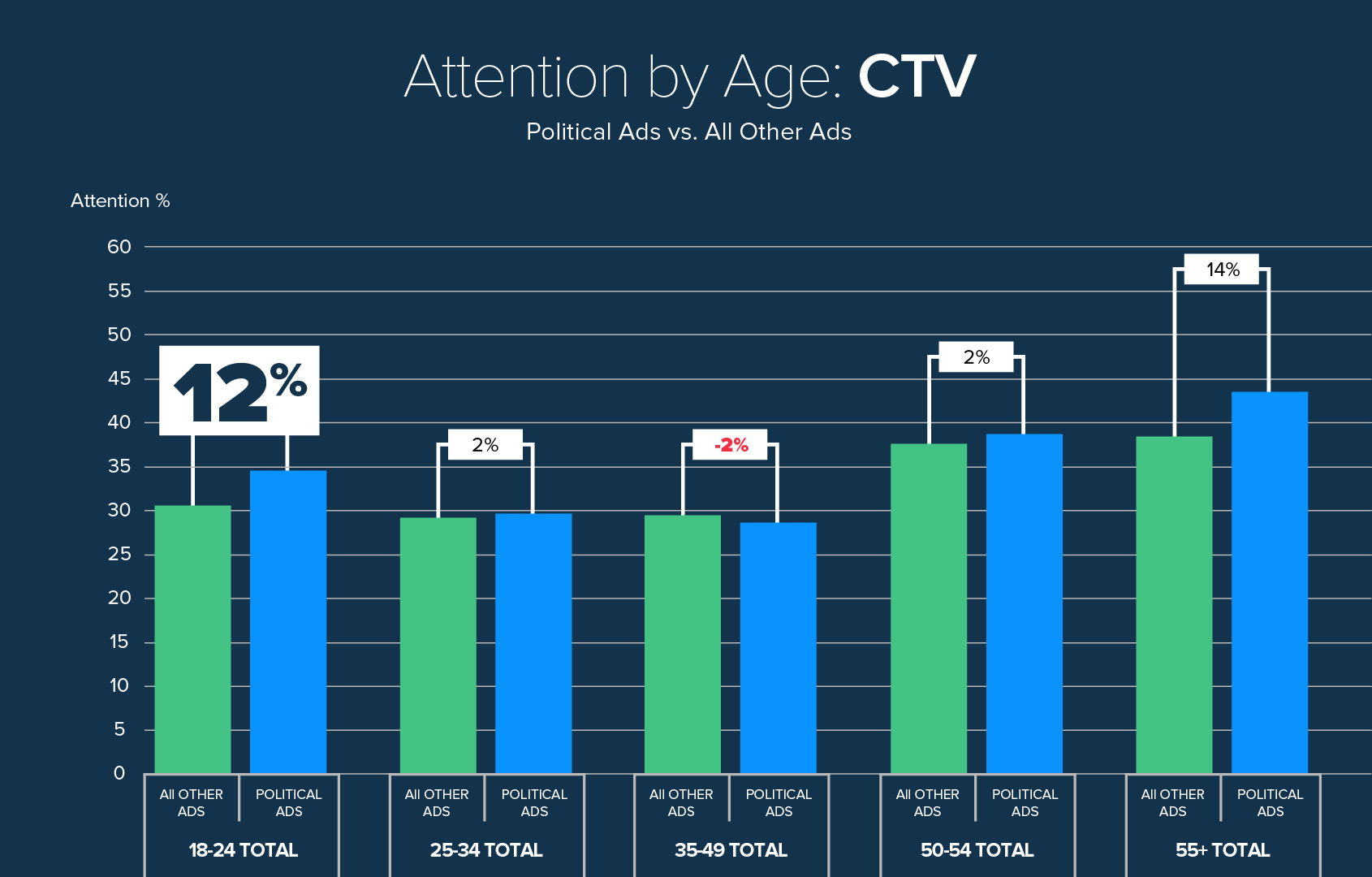 The same trends hold true for linear TV advertising, with all age groups except for 25-34 year-olds paying more attention to political advertising.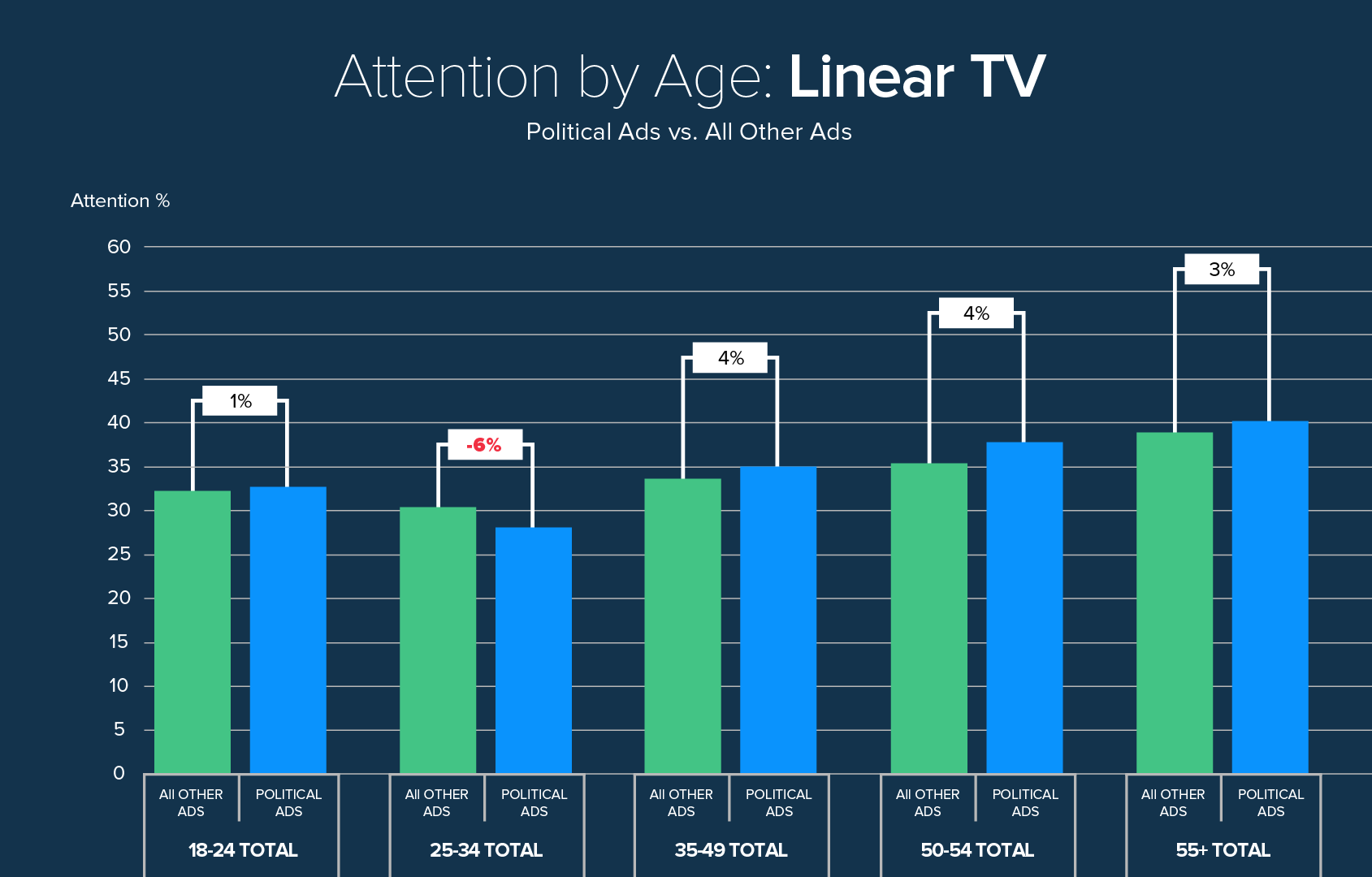 Independents Pay Attention to Ads on CNN; MSNBC and Fox News Capture the Base
Campaigns chasing independent voters will find attentive audiences across the major news channels, but independents are especially engaged with ads on CNN. Perhaps predictably, Republicans pay the most attention to ads on Fox News and Democrats pay more attention to ads on MSNBC than on the other channels.
In fact, Republicans pay a whopping 71% more attention to ads on Fox News than the left-leaning MSNBC!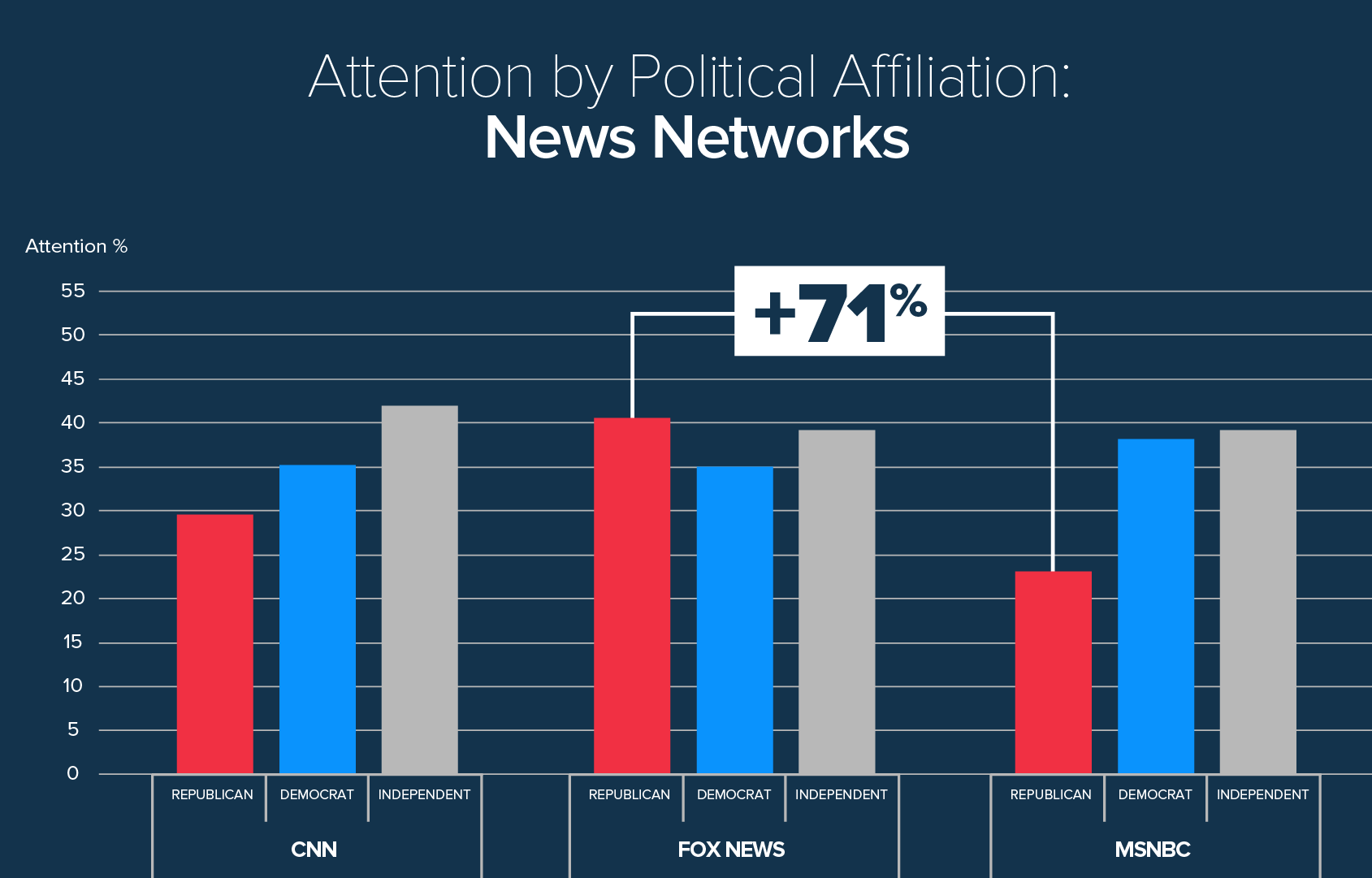 Positive Ads Can Grab Attention Too
While negative ads often generate a lot of buzz, TVision's data shows that positive ads can also break through and capture attention, as is the case with this Future Forward USA Action ad, which captured 54.1% ad attention in Dallas. According to TVision's Ad Scoreboard platform, Future Forward USA's ad "Bold Action, "which highlights President Joe Biden's Climate Change initiatives, scores a 105.7 for Creative Breakthrough. Creative Breakthrough measures how well an ad captures attention compared to ads that ran in the same pod. See how this ad maintains viewer attention, second-by-second. There are notable spikes with the mentions of "save on energy bills" and climate-related imagery.
About our Methodology:
We reviewed viewer engagement with TV advertising on Linear and CTV for people 18+ years of age between January 1, 2022 and August 29, 2022. TVision's panel includes approximately 13,000 viewers across the United States and they self-report political affiliation.
Find and Target Political Audiences with TVision Segments in LiveRamp
It's clear from the data that viewers are paying attention to political ads. Interested in reaching engaged Republicans, Democrats, or Independents across digital? With TVision Audiences in LiveRamp advertisers can access these segments and more.