"It's the golden age of TV," everyone says. And it's true -- to a fault. The television landscape is flooded with so much high-quality content, it's hard to know where to even start! With streaming services providing formidable competition, broadcast and cable networks are under more pressure than ever to deliver viewers and ad dollars.
But linear TV is far from dead. Broadcast and cable networks are still bringing in audiences -- massive ones, at that – and advertisers still place their bets on the biggest shows on the small screen. But which programs deliver the most consistent ad Viewability and Attention? We wondered the same thing. So, we opened our toolkit of high-tech tools and went to work. What we found wasn't quite what we expected.
Broadcast
Titles like FOX's Lethal Weapon and The CW's Arrow continue to perform well, with each appearing in the top 10 highest-scoring shows for both Ad Viewability and Attention. The CW is a particular success story here, with 5 of its shows appearing in the top 10 for Viewability (Legacies, In The Dark, Arrow, Crazy Ex-Girlfriend, and Supergirl). CBS performs well in this bracket as well, with its NCIS: The Cases They Can't Forget topping the Viewability charts (with Life in Pieces following at #6), and Mom and God Friended Me performing strongly in Ad Attention.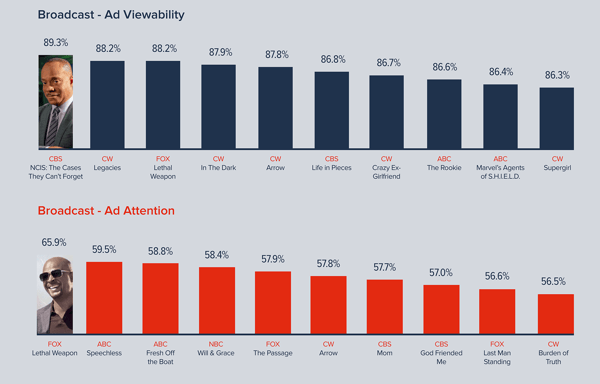 Cable
Now here's where it gets interesting. SYFY's The Magicians actually delivered the highest Ad Viewability of all the shows surveyed, moving well past FOX's Lethal Weapon to deliver a 91.8% rate. For Ad Attention, cable lagged behind network. Cable's highest-rated show for ad attention, TLC's My Big Fat Fabulous Life, came in at 58.6%, well behind Lethal Weapon at 65.9%.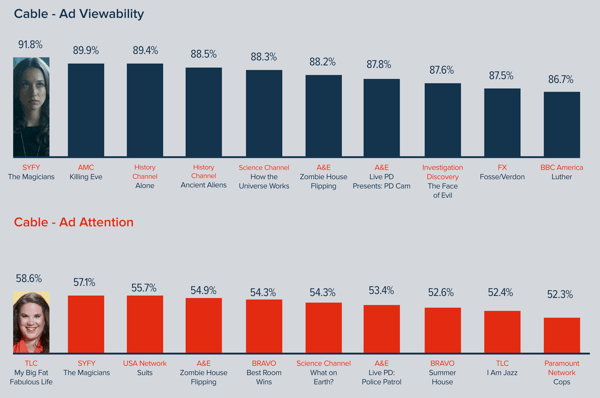 The takeaways: networks, particularly The CW, often deliver consistently high Ad Viewability and Attention. But cable packs a punch as well, with niche shows delivering the most attentive audiences out there. What does that mean for your business? How can we take insights like this to help you grow past your goals? Download the H1 2019 TV Performance Report and let's talk about how we can change your future.