Whether you're getting ready to trick-or-treat with the kids, or simply enjoying some spooky treats at your office party, Halloween can be one of the most fun times of the year.
And Halloween a big deal for brands too. Using our person-level, second-by-second data, we decided to see what tricks - and treats - were on TV.
First, we decided to see what our friends in "Big Candy" were doing on TV, and how audiences were engaging with their ads…
Hershey's - 'The Addams Family: Trick-or-Treat;
Two Halloween classics - Hershey's and The Addams Family - teamed up for this ad promoting their new movie. As most remember the classic Addams Family TV show, older viewers paid more Attention throughout the commercial.
Butterfinger - 'Nobody Lays a Finger'
In this alien-fueled trick-or-treat ad, viewer Attention peaked during key audio moments that caused viewers to look up, such as the doorbell ringing and candy bag rustling. Spooky!
Reese's - 'Trick'
For Butterfinger and Hershey's, we saw age and audio play a role in viewer Attention. For Reese's 'Trick', lightning flashes cause viewer spikes.
=
Last but not least, we know a common discussion this time of year is about Halloween movies - which are all over television right now. In our office, we've been having some friendly debate about what the scariest Halloween movie is. Once again, we let our data do the talking (though one might argue the scariest movie has the least eyes-on-screen Attention or in-room Attention)...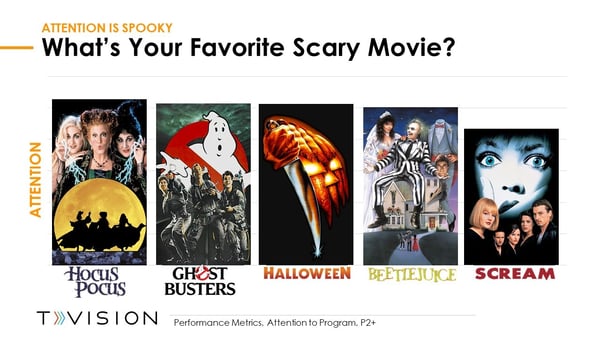 The winner? The classic Hocus Pocus just barely took the top spot!
=
Got questions about how we got this data? Want to let us know what the best costume was at your office Halloween party? Contact us for a call or a demo!