The drama and excitement of competitive events always captures Attention and keeps people rooted to their seats. Brands know that once the commercial break hits, they have just a few seconds to hold viewer attention before viewers make the trip to the kitchen to re-fuel. And when it's a big event -- the final game in a championship series, say, with millions, if not hundreds of millions of viewers -- that Attention becomes all the more important.
Ad Attention used to be an inexact science at best. But now, with cutting-edge advanced technology at our disposal, we're able to learn more about Attention than ever before. We can tell you when they're watching -- and we can also tell you when they're paying Attention.
Let's take a look at some of the biggest of the big events in the sports world, and find out what our Attention analysis revealed.
The Triple Crown
The Triple Crown -- the Kentucky Derby, the Preakness Stakes and the Belmont Stakes -- offers up three of the biggest sporting events of the year. Usually, Attention (and ratings) depend on the possibility of one horse winning all three. But this year, both Attention peaked after the Derby winner, Country House, was pulled from the second race because of illness. The real big winners? Canada Dry, General Electric, and Gillette all had top performing TV ads when the races were on-air and people were glued to their seats.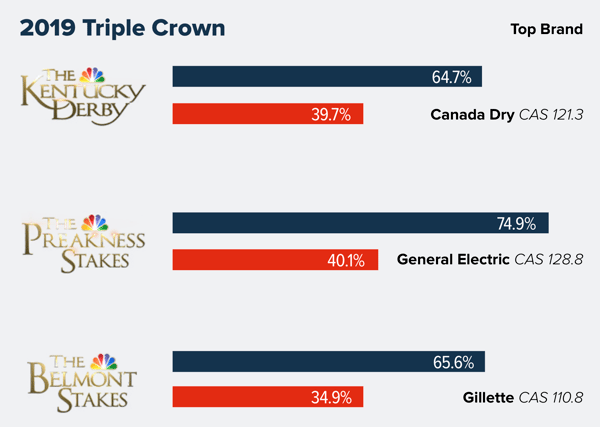 Sports Championships
Who's taking home the trophy? One team -- and if you're lucky, a number of smart brands. Buick, Wendy's and Mercedes-Benz were the big winners in the brand championship this year.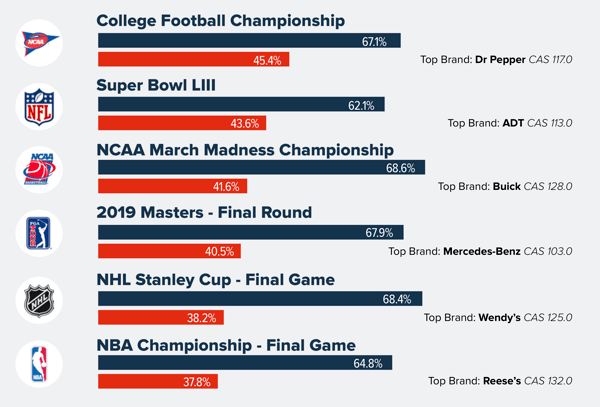 March Madness
Who's gonna win The Big Dance? Office pools everywhere depend on it. And so do brands. How do they stack up, once the winner's fought their way to the end of the bracket? Leading entertainment advertisers like the Walt Disney Company and Netflix rule the roost here, with homecare brand Arm & Hammer following closely. Cable networks yielded slightly higher Ad Attention, and games airing on TNT generated the highest Attention at 41.4%.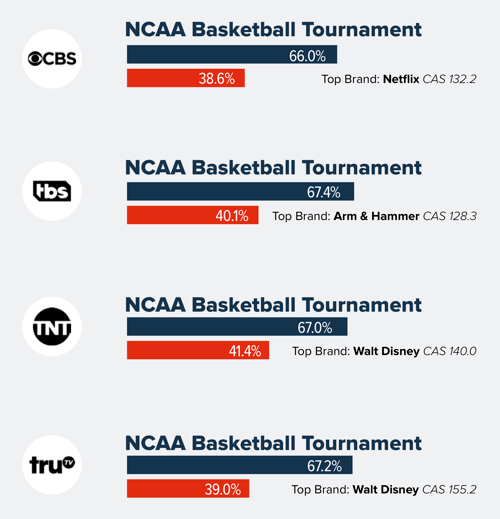 Everyone wants to see a champion rise. But are viewers going to remember your brand while cheering on their favorite team? What's the smart way to make your media buy work to your absolute best advantage? Read more in the H1 2019 TV Engagement Report, and let's talk about how our cutting-edge tools can help you succeed.