More people watched Biden than Trump — but people paid more attention to Trump than Biden. Confused? You're not alone after this experiment in head-to-head election programming.
By Alex Hubbard, Lead Data Scientist, TVision
If traditional television ratings were the sole measure of success in politics, then the outcome of the head-to-head presidential town halls that aired Oct. 15, 2020 on opposing networks was clear: Democratic candidate Joe Biden's appearance on ABC outdrew incumbent President Donald Trump's appearance, which was broadcast across the NBC News Networks - NBC, MSNBC and CNBC. Biden's town hall, with moderator George Stephanopoulos, drew an average of 14.1 million viewers in the hour between 8:00 p.m. and 9:00 p.m. Eastern, while Trump's interview with Savannah Guthrie drew an average of 13.5 million viewers.
But that's not the whole story. TVision's viewer engagement metrics revealed a more complicated picture of how Americans paid attention to the two events. These insights give the TV industry a better understanding of viewer interest in the election, and the effectiveness of the strategy to run both events simultaneously.
Who Watched Which?
Among Democrats and unenrolled/independents, Biden had higher viewership and was nearly even with Trump among Republicans.

Among Republicans, more people switched back and forth between the two than watched just Biden or just Trump.

Biden also prevailed among households that watched only one town hall, in fact 19% more viewers watched only Biden's town hall, than Trump's interview. More than a third of viewers flipped back and forth between the two.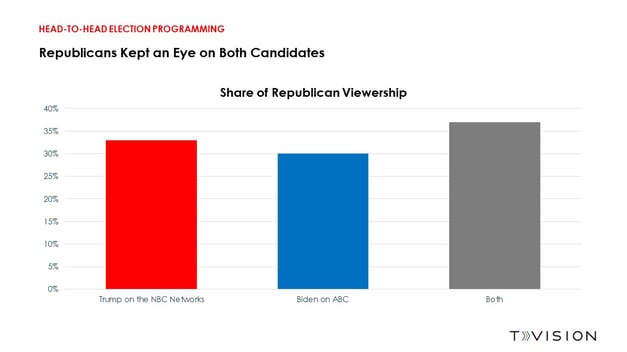 Turning Our Attention to Viewer Attention
TVision's proprietary analytics drill down even deeper into viewer engagement by measuring not just who had the TV on during the respective town halls but also who was actually paying Attention. And by that metric, Trump/NBC prevailed across all relevant cohorts, but both events drew much higher Attention than typical television content.
Trump's average attention for all audiences across the NBC News Networks was six percent higher than Biden's on ABC, and five percent higher among viewers who only tuned into one of the events. Factors that impact Attention could include the format of the program (interview vs. town-hall style), and the nature, substance and length of the questions and answers.
But when we dig deeper into Attention metrics we see clear indicators that candidates and networks - and especially the voting public - would have benefitted from airing the events at different times. Among the audience that watched both candidates, Trump's average Attention was higher than Biden's, but overall, both captured Attention well.
Broken down to a more granular level, we can see a distinct pattern - when viewer Attention to Trump dipped, it increased for Biden, and vice-versa. This suggests that the most engaged viewers were trying to watch both events. It also suggests that the networks, their advertisers — and the voting public — would have benefitted from putting the town halls on at different times instead of running them head-to-head.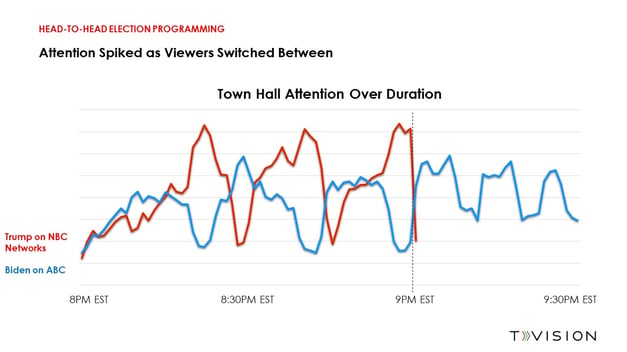 Adding It All Up
Because of the unique nature of this experiment in democracy, we're left with more asterisks and assumptions than definitive results. As Variety pointed out, the dueling town halls were not the only television viewing options available during that time slot. Baseball's "pandemic playoff game" between the Atlanta Braves and Los Angeles Dodgers drew 2.7 million viewers (and a 0.7 rating on Fox, while Big Brother was watched by 3.9 million viewers (a 0.9 rating) on CBS.
In the end, any claim by either candidate to have definitively "won" the town hall showdown is dubious. But the level of distraction among viewers switching back and forth, as measured by TVision's Attention metrics, indicates that everyone from the networks to prospective voters to the candidates themselves lost out on the decision to air the town halls at the same time.