Marketers will spend more than $4 billion on upfront CTV advertising this year, according to eMarketer. As they make these investments, they need tools to gauge the real value of CTV's impact. To correctly size their CTV opportunity, advertisers must be able to make apples-to-apples comparisons with the current standard-bearer, linear TV.
Attention and engagement data in TVIsion's platform allows marketers to identify the AVOD and MVPD applications that are outperforming their linear counterparts. To help marketers make informed decisions, we break down attention across ad-supported streaming applications in our latest report, the CTV Advertising Report.
Check out the chart below which ranks the Top Apps for Ad Attention: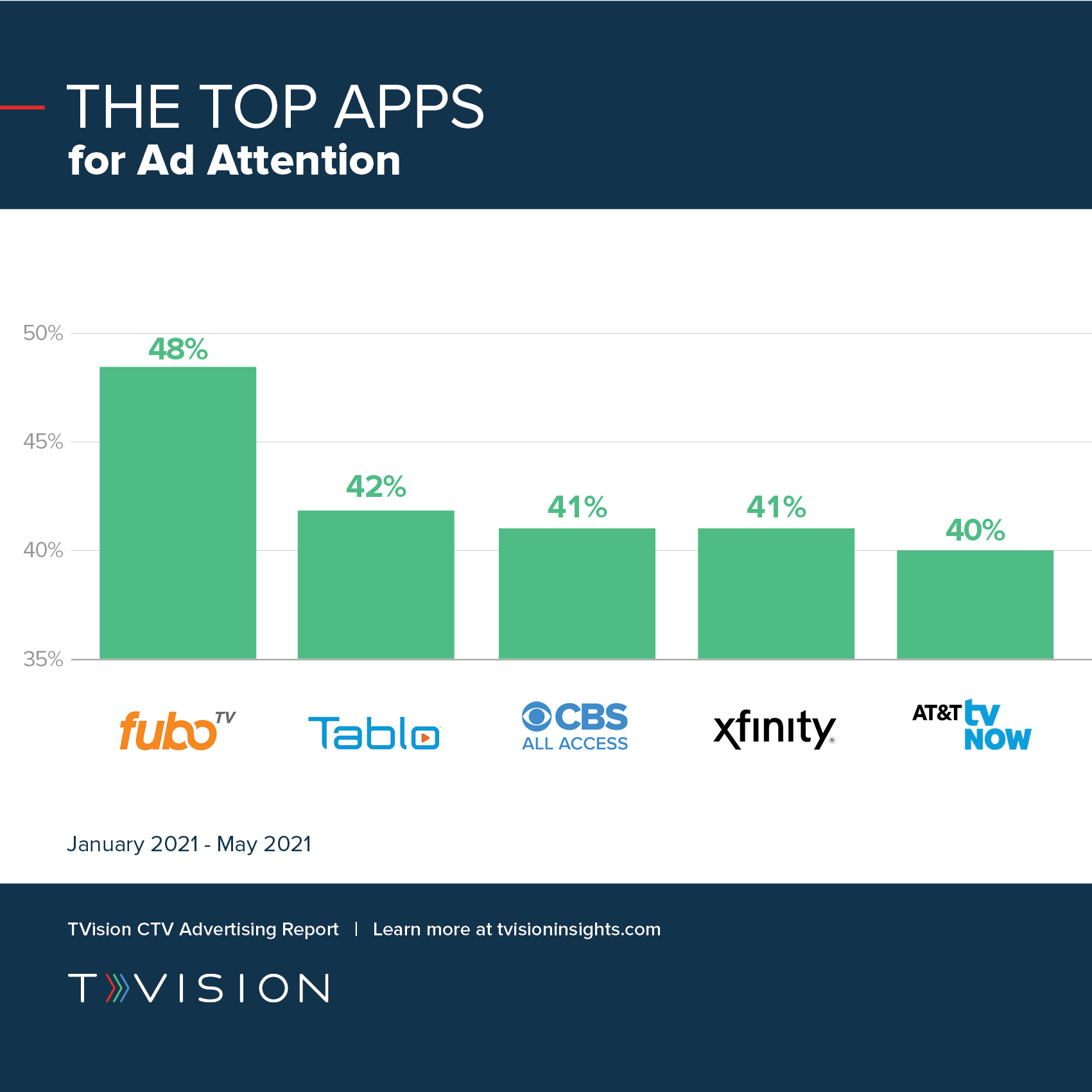 Our data show that ad opportunities in FuboTV are worth a second look. In the first months of this year, we saw that FuboTV outperformed all other ad-supported CTV, capturing 48% attention to its ads. In comparison, the average attention for all live sports outlets - across CTV, cable, and broadcast, is 35.8%. Sports viewing traditionally reports lower levels of attention than average TV content - due in part to the nature of the content and the length of games. It is possible that FuboTV delivers high attention because its viewers are intentionally seeking this content and therefore are more attentive, engaged fans.
Also of note, the two MVPDs on the list, Xfinity Stream and AT&T Now, both essentially provide a live viewing experience similar to linear, where viewers are more accustomed to watching ads.
Additionally, the performance of Tablo, which acts as a DVR and allows audiences to skip ads, is also interesting. Arguably, looking at TVision's attention data, their ad-skipping feature is not all bad news for marketers. Tablo ranked second for ad attention - maybe in part because viewers who don't fast forward beyond the ads are responding positively to the ad content and making an intentional choice to keep watching through the ad break.
Learn more about the top streaming apps for ad engagement and more insights on CTV advertising performance in our report.