We are in a cross-platform world.
According to research by the Advertising Research Foundation, brands can increase ROI 19% to 35% by using multiple platforms - linear TV, online video, and advanced TV. To maximize ROI, marketers must coordinate media strategies across TV and digital. Whether you're a small or large advertiser - buying digital or advanced TV based on audience TV viewing behaviors is a high-value way to maximize media investment without a large financial commitment.
Targeting audiences through digital video or advanced TV based on how much exposure they've had, or how receptive they've been, to ad messages on other channels is an ideal way to optimize messaging reach, frequency, and time rotation, among other targeting strategies.
It has been several years since device-level tuning data was first introduced to the market for this purpose, and there have remained some gaps between what marketers would ideally use, and what device-level tuning data has been able to deliver. Those include person-level viewing, actual engagement data, and inclusion of TV streaming activity.
That changes today with the launch of TVision Audiences - the next wave of TV data innovation.
1. TV Data Over the Years - and its Current Limits
Long ago, Collective launched an innovative data solution called TV Accelerator — a market-defining data product. TV Accelerator enabled some of the first uses of TV data to deliver cross-media targeting solutions and provided an early data solution to the larger cross-device reach & frequency goals — goals that are still being aggressively pursued by marketers today. As Collective's head of data & research, I had a front-row seat to how and why we built this product — and the value it delivered to brands.
Back then, the data's use cases were similar to what you hear today – "With Collective TV Accelerator, you can extend the reach of your TV campaign to online audiences, increase message frequency, and execute competitive conquesting – all by reaching consumers on the different screens and devices they use."
To do this, we sourced data collected from households' devices, providing us with information on what TV content those homes were tuned to, and from that, we built audience targeting products to be used for digital media targeting. At the time, these capabilities were revolutionary. The data created was best-of-breed. In 2013, we were truly state of the art.
While Collective and TV Accelerator are no longer around, the market for this type of data has only grown and other companies built data products to meet the demand. Using data collected from households' permissioned set-top box or smart TV devices, there are a number of audience targeting products in the market.
While there have been significant advances in the use of this type of TV data for measurement and attribution over the last several years, there have not been significant advances in the type of data collected to support new digital targeting strategies. Strides have been made in improving the volume and accuracy of the deterministic device-level data but without knowing much more than that the TV is on in the household, the targeting products are not materially different than what was in-market in 2013. The number of households providing "known" TV tuning data has increased, but what we know about those households' TV viewing has not changed much at all.
This is due to the nature of the data collection. There are simply limits to what these devices can tell you. A key limitation of tuning device-level data is simply this: Content airing on a TV is not the same as it being seen.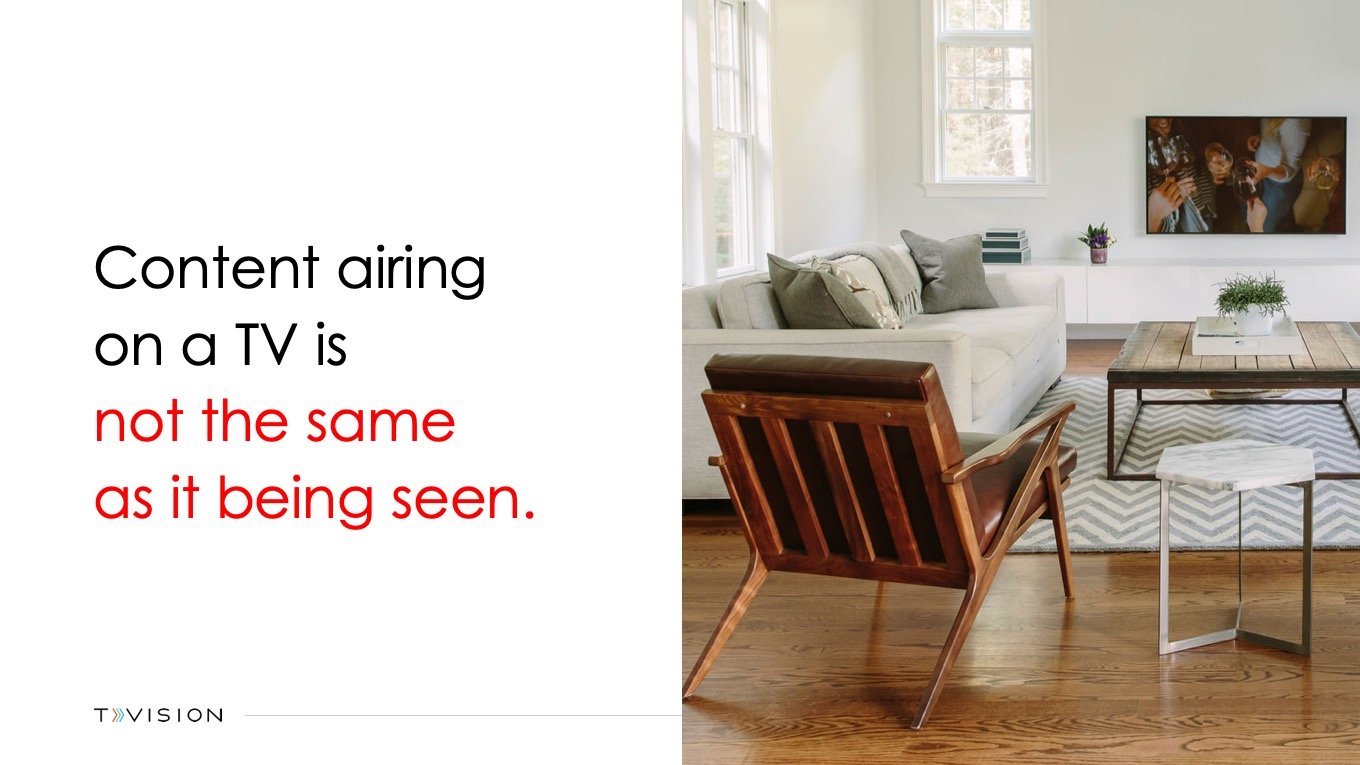 There is value in knowing what content (or advertising) a device is tuned to — It's a good indicator of interest, and potential viewing or exposure. The strategies that marketers employ when using this data, however, are assuming that the audience actually engaged with the content or advertising on the TV screen.
Unlike digital, however, TV is a very passive experience. We're up and we're down. We're in the room and then we're outside. There might be six people in the room and there might be zero. You might be very engaged or you might be looking at your phone.
When we watch TV, we are not fully engaged all the time. And so there are limits to using tuning, or ratings data, to accurately build and target audiences. There is no actual correlation between tuning and engagement.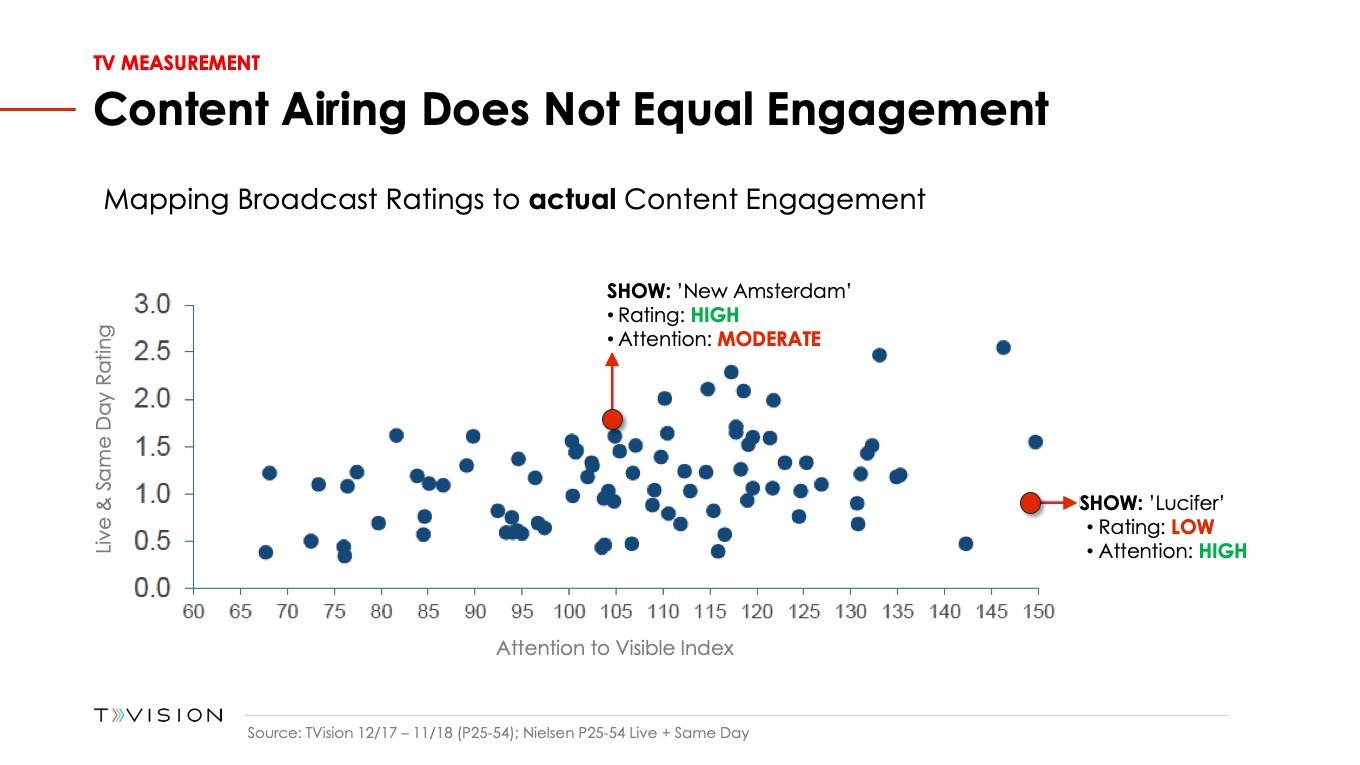 Additionally, per IPG Media Lab's landmark study on TV Attention earlier this year, using TVision data, 29% of the time there's no one even in the room when the TV is on. That analysis was conducted limiting the denominator to active viewing sessions where a person had been recently present in the room. When that analysis is done against all tuning data collected in a household, the non-viewable number is actually significantly higher. And if there is someone present, who is it?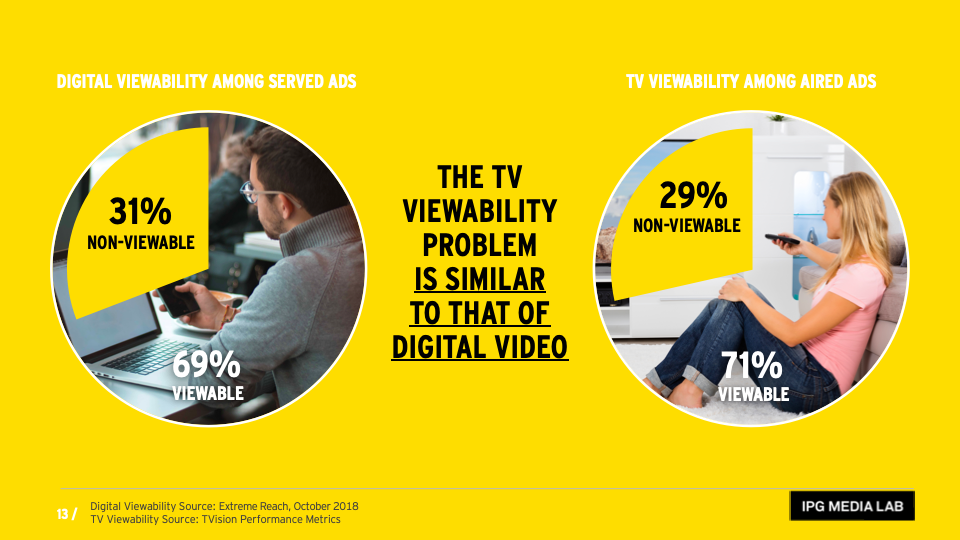 And when people are in the room, they may not be who advertisers intend to reach.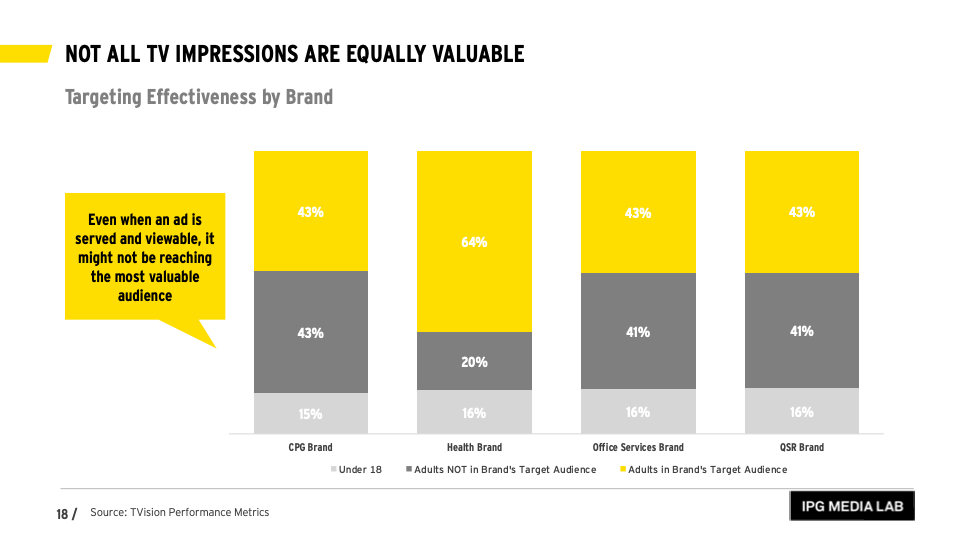 Tuning devices, such as set-top boxes and smart TVs, can only provide you with so much information. They can tell you that the device was on and tuned to a certain channel at a certain time. Demographics may also be appended about the types of people living in these homes, but whether anyone was present and paying attention is a mystery to the device.
What has improved is the market penetration of using this type of data. Marketers are adopting cross-device approaches to their marketing, and are adopting data-driven, person-based marketing as the most efficient and effective means to spend their marketing dollars. What makes this important is that what content people see on TV matters. The exposure to ads on TV, or not, impacts how we may want to further target them for ads. But marketers need a better way to determine this.
2. Person-Level TV Engagement - Innovation at Last!
Over the last several years, TVision has invested in developing the new technology that is enabling marketers to gain more sophisticated capabilities – both the relevance of what data they can access and the strategies they can employ when using it. We have developed a completely proprietary, first-party, opt-in & privacy-first TV data set that enables people-based measurement for data-driven, people-based marketers.
TVision's methodology, in short, is that we have developed cutting-edge technology to do what has never been possible before - measure how people actually watch TV. We collect person-level TV data, second-by-second, covering all types of content or advertising, whether watching linear TV, time-shifted TV, VOD, or Streaming/OTT.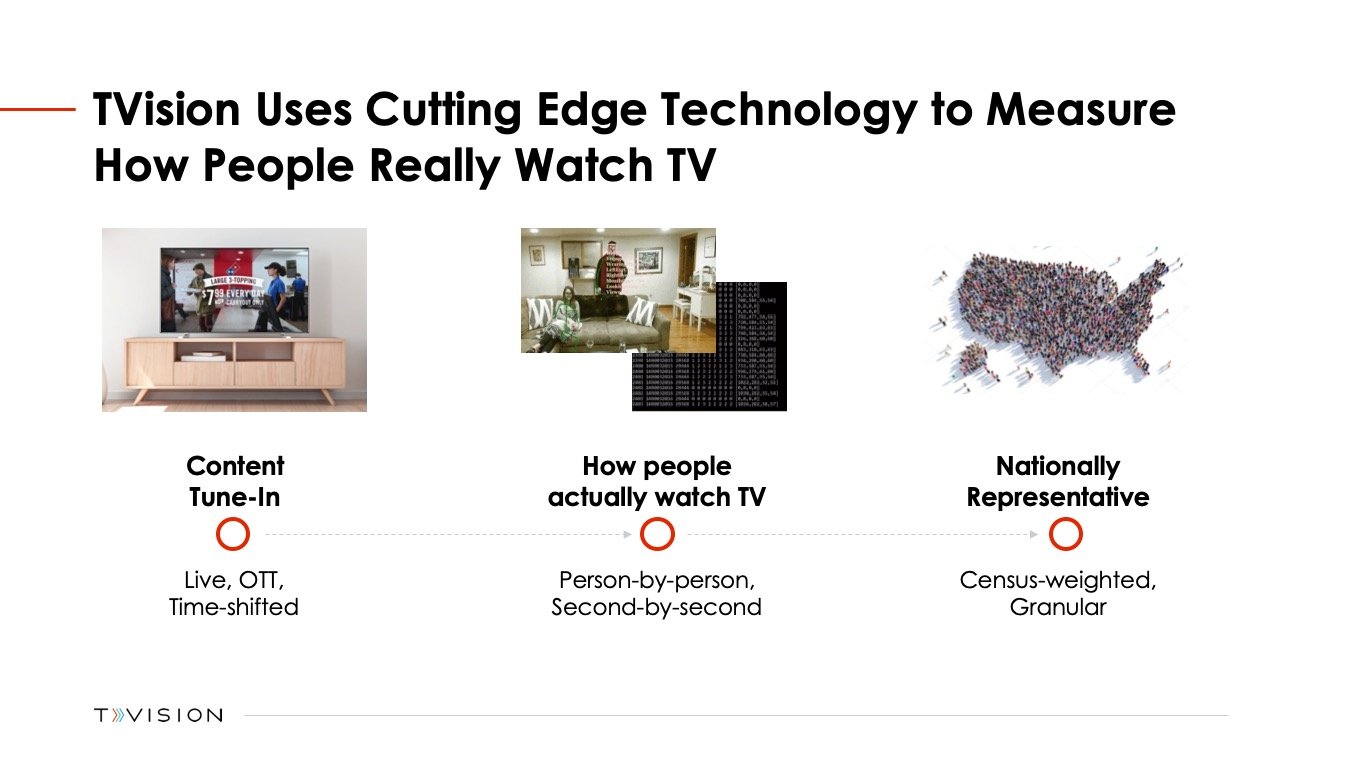 TVision's new TVision Audiences capabilities bring a number of new, next-generation capabilities to market.
Person-level TV Data
Devices don't watch TV. Households don't watch TV. People watch TV.
In this data-driven world, where marketers are focused on person-based marketing, using tuning device-level data to approximate the actual person watching TV is no longer enough. With TVision, audiences based on person-based TV consumption are finally possible. TVision tracks TV viewing behavior second-by-second, person-by-person and creates TVision Audiences based on the actual people who tuned, were present and/or paid attention.
Person-based marketing doesn't work when your targeting strategy is based on the aggregate viewing behavior of all residents of a household. Efforts to manage person-level cross-device reach and frequency based on household data signals is fundamentally flawed unless it's a household with a single occupant.

LiveRamp - our enabling partner for TVision Audiences - clearly understands this importance.
"People-based marketing requires the ability to understand and address people, and with the launch of TVision Audiences via the Data Store, we're pleased to be able to extend our person-based capabilities to include TV data for insights and targeting applications."

- Allison Metcalfe, General Manager

LiveRamp TV
Engagement: Attention
Further, not only do marketers care about marketing to people but they care about understanding who has actually been reached. A problem for marketers is that no one knows what's happening on the other side of the TV Screen. TVision has solved that problem.
As noted earlier, whether anyone is even present in the room is the first question to ask and IPG's study established the scale of the problem in their Attention study. Even if someone is in the room when the ad or content aired, however, were they even paying attention?
"Attention," one of TVision's flagship metrics, is the truest measure of an actual ad exposure. An ad airing in a household is not an ad exposure. An ad airing when a person was definitely in the room ("Attention") is also not an ad exposure. An ad does not actually have an opportunity to truly influence someone unless that person is paying Attention to it. Attention is ultimately what marketers need to prioritize for Audiences, particularly as it relates to cross-device reach and frequency management.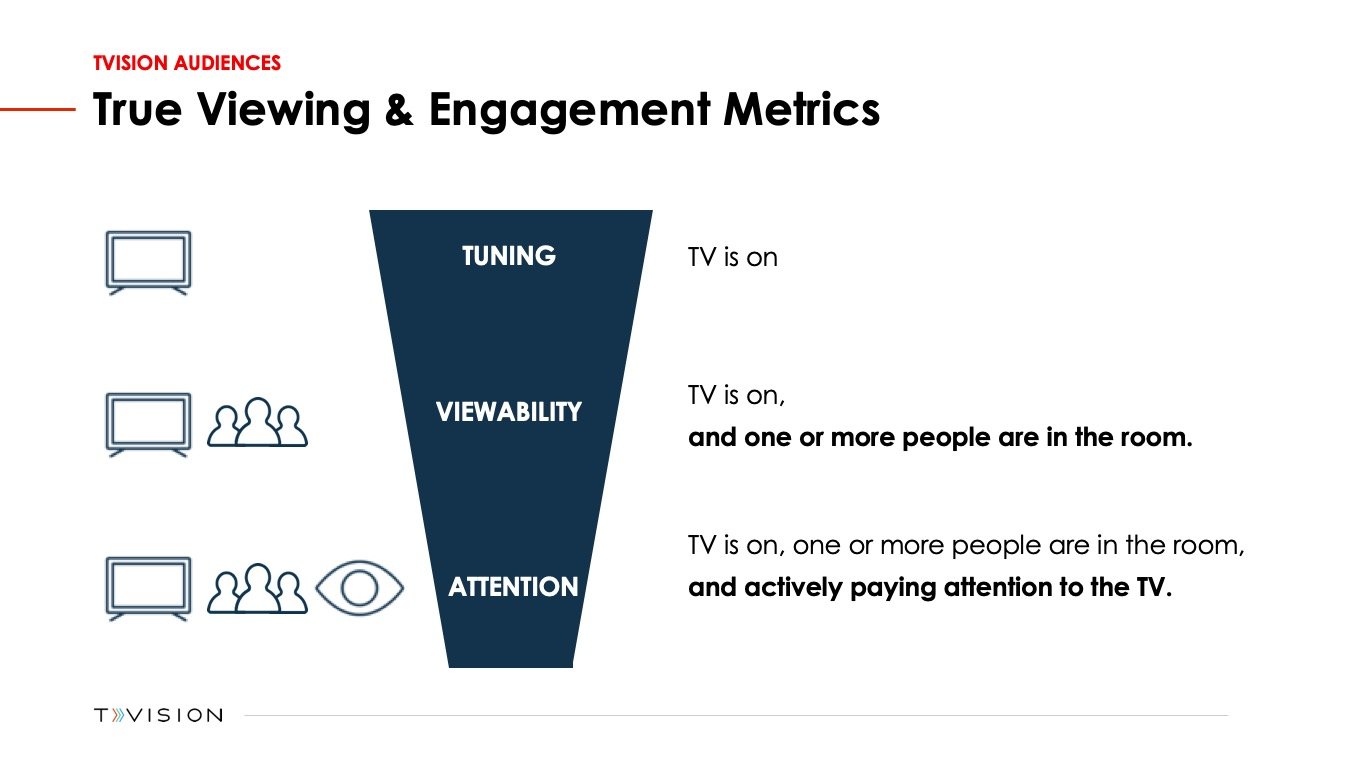 This is the core of what TVision measures for marketers – the point at which ads actually work – when someone is in the room, Viewable, and paying Attention to what is on the TV.
"Reaching unduplicated audiences with CTV and digital video requires precise data about who has actually seen the ads on linear TV. TVision's unique approach to TV data collection is providing us with unparalleled granularity into when people have actually been exposed and engaged with TV advertising."

- Mike Baker, CEO

dataxu
All TV Consumption: Streaming for All
Additionally, in addition to understanding what the audience is watching, in today's evolving landscape it's also critically important to understand how it got there. TVision's technology enables us to collect a wide range of data points related to media behaviors including:
Means of Viewing: Cable, OTA, Streaming Devices
Streaming Devices: Roku, Chromecast, Apple TV, Smart TV, etc.
Streaming Applications: Hulu, Amazon Prime, Netflix, etc.
Content: Shows, Streaming Originals, Advertisements, Genres
Cable Provider: Dish, Comcast, Charter, Verizon, etc.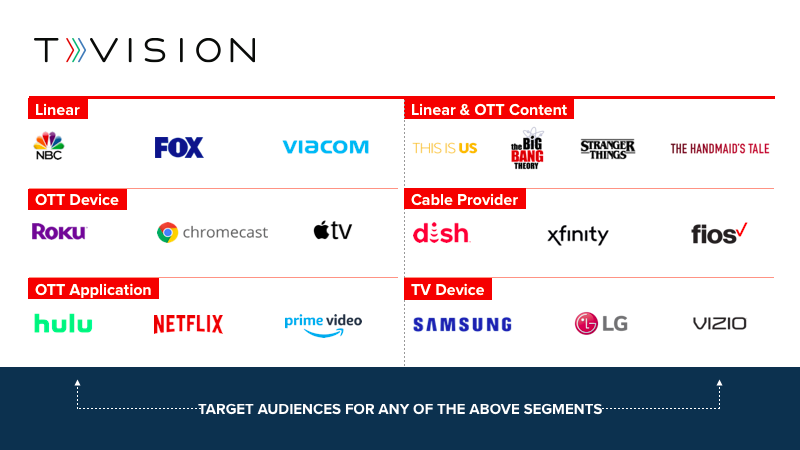 As highlighted in the launch of TVision's Streaming Analytics product last month, we have the capability to understand streaming behavior across our data set, including not just what streaming content people are watching, but what device they are using and what application on that device. This data is now available for use via TVision Audiences, as well.
Focus On Data Quality & Data Ethics
As we have developed our technology and these new data sets, we have done so with best practices around data quality and data ethics top of mind.
Data quality is a nebulous term but we generally think of it in terms of 1) accuracy and 2) performance. Building our product is an intensive process, requiring the development and ongoing investment in technology, operations to deploy our technology to the market, data operations to process and make sense of what we collect, data science to ensure the data is representative and accurate, as well as partner selection to ensure we augment our own capabilities with the work of trustworthy partners. Each aspect of our product build is critical to the overall accuracy of what we create for clients and is treated as such. If we build our products accurately, they perform.
To validate our commitment to our principles and to underscore the importance of the market's trust in our capabilities, we are partnering with new companies in this space that understand the importance of the topic:
"In an ecosystem driven by data, it is more important than ever that the data is high quality and trustworthy. High data quality will be a clear driver of differentiation in the eyes of marketers, especially in a post-GDPR, post-CCPA, cross-platform world. It's also clear that TVision is determined to be a leader in this area and Neutronian is pleased to be actively engaged in helping to validate their work."

-Timur Yarnall, Co-Founder

Neutronian
Sound data ethics are similarly critical to our approach. We are entrusted with the ability to capture sensitive information and take that responsibility seriously. In addition, the regulatory environment protecting consumer privacy continues to grow more active. GDPR is in effect in Europe and California's new privacy law, the CCPA, goes into effect on January 1, 2020. Both laws increase the level of rigor that companies must apply when collecting or processing consumer data. In a surprise, national data powerhouse Acxiom (the previous owner of LiveRamp, while I was employed there) published this opinion piece in The New York Times last week calling for a national privacy law in the US.
TVision is ahead of the curve on these topics - TVision's data is 100% opt-in and privacy first. Our technology is deployed where explicit opt-in has been acquired and the information our technology collects is processed on the device in people's homes, using edge computing.
In short, we are building a privacy-first, GDPR and CCPA compliant data set, with a strong focus on data quality and on providing the market with new, more relevant performance TV data. Pushing the envelope on data topics often involves pushing the envelope on the privacy side, as well. With TVision, marketers can utilize highly innovative data, with confidence that the data has been collected in a privacy-centric manner. There is likely nothing more comforting for a CMO or compliance officer to hear.
3. How to Apply the Next Wave of TV Data
As noted, tuning metrics have been used as a proxy to represent actual exposure to an ad or to specific content to date. With the launch of TVision Audiences, we're proud to offer comprehensive person-based data, with actual engagement data, across all types of TV viewing. Determining how to apply this data to a marketers' strategies can be daunting, however, and so we've created a simplified cheat sheet on how to use TVision's data.
Every marketer has different objectives for each campaign. Sometimes they are buying advanced TV or digital for upper-funnel awareness, and other times they're driving a lower-funnel message. There are a variety of strategies that companies can use regardless of the campaign goal. Aligning campaign goals with the right targeting strategies to determine which data solutions are the best fit is often the best way to approach a data selection question.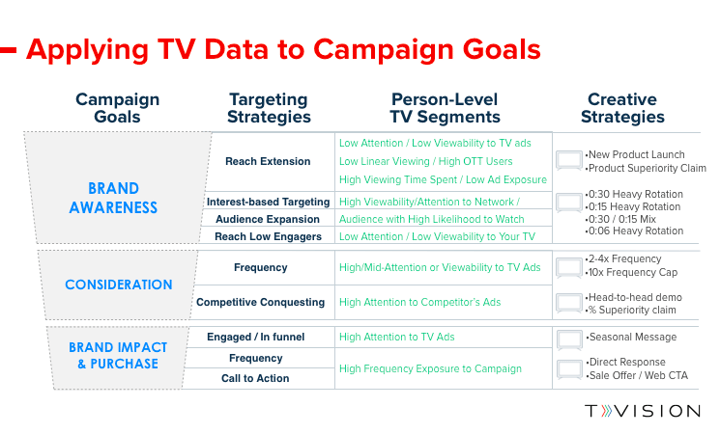 Get Started with TVision Audiences
TVision Audiences are available today through the LiveRamp Data Store.
Syndicated Audiences are already available with our partners at the following media platforms: DataXu, Amobee, Xandr / AppNexus, Adobe Advertising Cloud, Viant, and MediaMath.
Want custom Audiences, recommendations, or to use TVision Audiences on premium publishers such as Facebook and Twitter? Contact Audiences@tvisioninsights.com - we'd love to see how we can partner.
We'll be at RampUp NYC on September 18, 2019. Contact us at hello@tvisioninsights.com to find time to talk!