Live sports are a standard part of most large brands' advertising campaigns and Upfront planning, as evidenced by the more than 4.4 billion in total advertising dollars spent on Sports in Q4 2020, according to Media Radar.
As marketers consider the impact of these investments it is important to evaluate both audience size and engagement. While we all know a few sports fanatics who are glued to the TV for every second of their favorite team's big game, we also know that live sports are longer in duration than typical programming, and are often co-viewed by more casual fans. As a result, Sports can sometimes report large audiences, but lower levels of attention.
TVision's Upfront eBook - Six Things Marketers Need to Know this Upfront Season - helps marketers understand the overall value of their live sports investment by factoring in audience size and attention.
For example, the NFL routinely delivers large audiences, and while viewers are more attentive than average, they do not pay as much attention as viewers of primetime programming overall. This type of insight helps marketers understand the relative value of engaged audiences.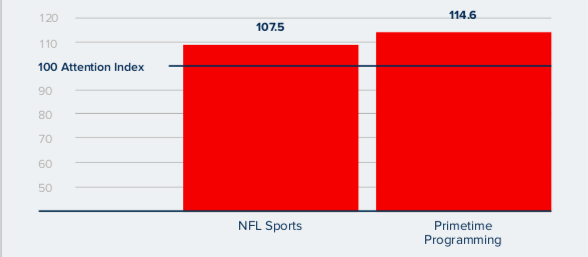 Download the eBook to learn more, and get insight into how MLB audiences have changed over the past year.