(Hint: Not During Football.)
Turn on a TV, and there's a car commercial.
It's a given. From sedans and luxury vehicles to trucks and SUVs, auto manufacturers are a ubiquitous presence in the media landscape. But there's more to this story than you may realize. We analyzed the viewability of automotive ads on TV, and the results were surprising. Our cutting-edge technology delivered insights revealing that for some brands, a large portion of TV spend may actually be ineffective.
Late night is best.
Football is incredibly popular, right? As it turns out, viewability for automotive ads is highest during late-night programs like Jimmy Kimmel, Jimmy Fallon and Stephen Colbert. Automotive ad viewability was much lower during sporting events such as NFL and college football. Identifying key hits, misses, and opportunities can help brands maximize media spend efficiency.
Brand performance varies.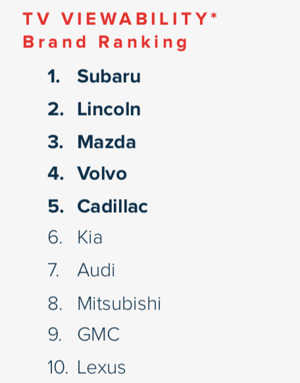 Consumer brands like Subaru, Lincoln, Mazda, Volvo and Cadillac performed especially well in our viewability analysis, indicating smart choices in ad placements. Interestingly, two heavyweight luxury brands, Mercedes-Benz and BMW, were much lower in our top 20 listing of auto brands' TV viewability.
Viewability of ads varies in surprising ways, and our insights can help you fashion a strategy that's uniquely effective.
Interested in learning more about how our TV Viewability analysis can impact your media spend? Download our Automotive Industry Report now.