You may think Travel brands have it easy.
Beaches, vistas, and exotic sights all seem like they sell themselves. But hotels, airlines, cruise lines, car rentals and other travel brands have to make smart calls in an especially dynamic and fragmented media landscape.
Getting the right kind of exposure to your brand's advertising is essential, even when you're offering a trip to paradise. So how do Travel brands make the smart call? We leveraged our unique, person-level data to find the answers.
Travel shows don't always keep viewers in their seats.
We were surprised to find that some travel shows - like Expedition Unknown - do not always deliver high Viewability for Travel brand ads. Nor, interestingly, did food-oriented shows like Chopped, The Kitchen and Trisha's Southern Kitchen.
On the flip side, primetime network dramas like Bull, Manifest and Chicago P.D., as well as personality-driven shows like Hawaii Five-O and Diners, Drive-Ins and Dives, delivered both large audiences and high Viewability.
Are the biggest Travel brands driving the biggest results?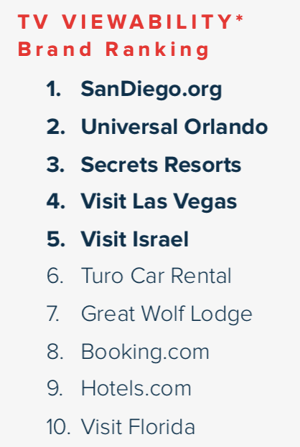 Spoiler Alert - many of the leading travel brands - Hilton, Marriott, Holiday Inn, Disney - did not crack the top 10 Travel brands for TV Viewability. Even a big brand like Expedia performed just slightly above the average of other Travel brands.
Ad buys for more specific, location-based Travel brands like SanDiego.org, Universal Orlando, Secrets Resorts, Visit Las Vegas and Visit Israel managed to break through to the top of the list.

With so many destinations out there, how can your Travel brand stand out as the right traveler choice?
To learn more - download TVision's Travel Brand Industry Report. Got questions? Feel free to connect with us to make your brand go places.