Money matters. So does where you choose to invest your TV advertising.
Switch on your TV at any given time, and you're bound to catch an ad for a Finance brand — banks, credit cards, investment management, tax services — you name it. Consumer Finance brands invest a LOT into their TV advertising.
But does all this media reach translate into real returns? How do they know if their customer's are even engaging with their ads?
We took a hard look at the TV Viewability of all brands advertising in the consumer Finance industry — and the results were surprising. So let's dive in.
Big reach doesn't necessarily equal big engagement.
Our analysis revealed that the obvious, high-profile TV events - like professional football - didn't deliver the TV Viewability that puts Finance brands into the black. But specific primetime dramas like Madam Secretary, with its significant audience, delivered higher TV Viewability than many other similar broadcast programs. Only granular, person-level TV performance metrics can uncover such nuggets.
Finance brands are leaving money on the table.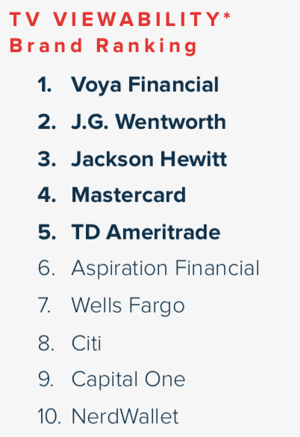 Showing up at the top of the list of were brands like Voya Financial, J. G. Wentworth, Jackson Hewitt, Mastercard and TD Ameritrade, all of whom have media plans with high TV Ad Viewability. Other big brands in the category - like Quicken and TurboTax - scored lower on the list, indicating that even household names have room to improve.
Is your Finance brand making the smart call when it comes to TV Viewability? TVision can help. Download our Finance Brand Industry Report now, and discover how our cutting-edge performance metrics can give you an edge on the competition.