Attention Measurement is having quite the moment in 2022 as the ad industry embraces quality measurement in conjunction with quantity measurement standards. Our friends at Dentsu spoke to the importance of attention during the ANA's recent Global Day of Learning: Media, and now we have more research on attention released this week from the ARF in conjunction with The Attention Council.
The ARF Attention Report dives into the adoption and usage of this emerging metric.
As TV consumption and measurement landscapes shift, the adoption of TV viewability and eyes-on-screen measurement has been quietly gaining steam. TVision, an active member of The ARF and The Attention Council, focuses on how people really watch television and helps brands and agencies get more out of their TV spend. The ARF's recent research takes a holistic look at the role of attention measurement across TV, CTV and digital.
Here's my quick take on some of the key learnings from the report.
Adoption & education efforts must continue
Attention metrics are adding value to brands and agencies
Attention data improves media buying, not just creative


Even as the market adoption increases, more education is needed
One of the clear take-aways from the report is that the buy-side continues to struggle with understanding how to integrate attention metrics beyond creative impact. That said, media buyers are eager to learn. In fact, as noted in the report more than 75% of buyers would consider using attention metrics for media planning and buying in the future.
Real-world examples of how attention integrates into media planning to create more value in campaigns are especially important right now. One such example comes from Anheuser Busch, Dentsu and A+E. The companies worked together to create an Attention Guarantee that produced more value in terms of ad engagement than a traditional campaign.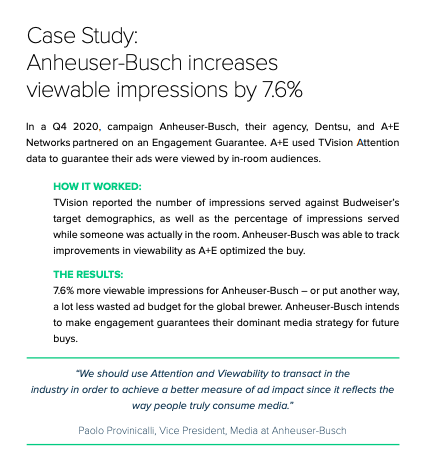 The Attention Council, TVision, and our peers will continue to inform, educate, and showcase the impact that attention metrics have on campaign performance. Awareness building and market education efforts should remain a top priority. The Attention Council's recent report "The Link Between Attention Metrics and Outcomes" highlights dozens of use cases.
Attention metrics are adding value to brands and agencies
According to the ARF survey, the market (including 94% of buy-side respondents) clearly understands that attention metrics represent an innovation and improvement on the current state of affairs, rather than a complete replacement for existing measurement. Leveraging attention data, especially on TV where the spend remains significant, moves the needle in terms of business outcomes. A few percentage points of improvement in viewability or consumer attention on TV can have a huge impact on overall campaign performance and ROAS, as we have seen with clients like this consumer products company.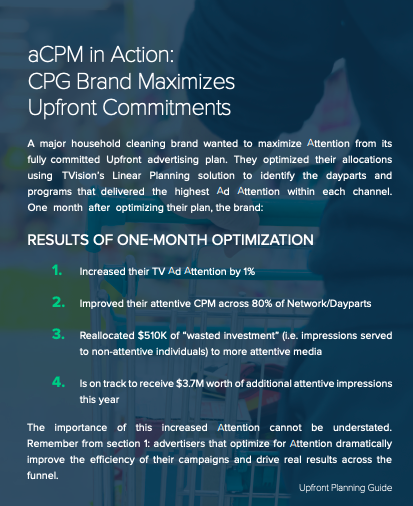 Attention data improves media buying, not just creative
Attention measurement remains a big part of creative testing. Good creative is at the center of every good campaign, and an effective creative helps to keep someone in the room or gets them to look up from their phone for at least a few seconds.
However, as GroupM's Irwin Gotlieb explained at a recent event we held with attention metrics company Adelaide, early adopters on the planning side are taking advantage of "knowledge asymmetry" and market inefficiencies. Properly valuing the media opportunities that overdeliver consumer eyeballs (or even the opportunity for them to see the ad as opposed to empty rooms), has proven time and time again to help marketers get significantly more ROI from their TV spend. Higher ratings don't always mean higher attention, of course.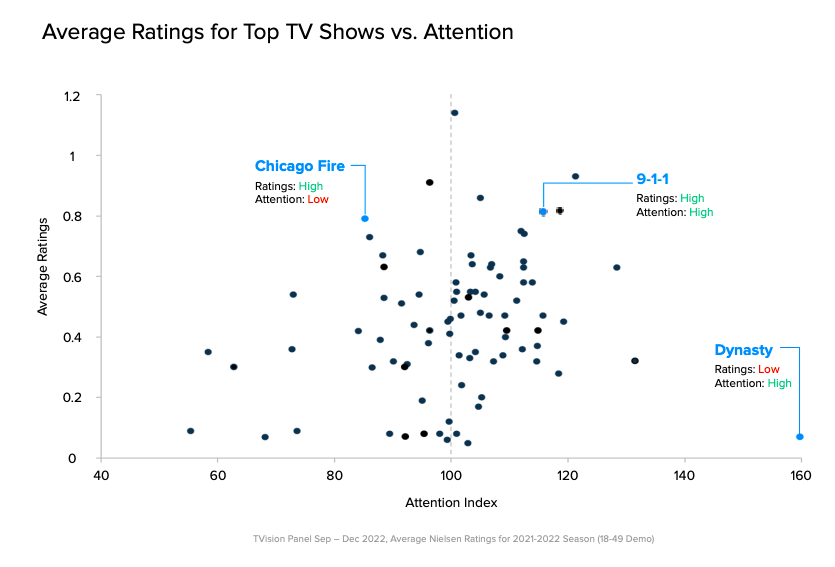 Some innovative and forward-thinking brands and agencies, like Anheuser-Busch InBev and Dentsu have been early-adopters and have capitalized on the aforementioned knowledge asymmetry in the marketplace. The good news is that this recent ARF research demonstrates that this window of opportunity remains open, at least for the time being.
"Yes, we've tested. Yes, we've seen the results -- but now we're actually planning, optimizing and buying against it," says Cara Lewis, Chief Investment Officer, Dentsu, ARF Conference, April 2022
To wrap up, the report validates what we are seeing and hearing from advertisers every day. Attention metrics are on the radar of all smart, innovative marketing teams. However, it appears more education and evidence of effectiveness is still needed, especially as it relates to the use of attention metrics in media planning and negotiations. Early adopters of attention are one step ahead of the market and seeing real gains, but they are hesitant to share their insights. That might be understandable. Would you want to reveal your secret weapon?