As the opportunity to reach audiences on connected televisions continues to grow, advertisers are moving budget and focus to CTV. But not all brands are maximizing the opportunity to reach engaged viewers, and in fact, some brands are finding that CTV is producing lower overall attention than linear TV.
Advertisers may be surprised to see that streaming content's reputation for intentional, engaged viewing does not universally translate to high attention for CTV ads. But keep in mind this reputation may have been earned from premium SVOD content which does not include ad opportunities.
Parallels for AVOD content can be more closely drawn with linear TV. In fact, our data shows that overall CTV ad attention is actually slightly lower than linear TV averages, even for advertising stalwarts like Reese's, Charmin and Toyota.
There are several possible reasons that linear advertising outperforms CTV:
CTV users who are used to an SVOD experience may be less tolerant of advertisements within CTV, and more likely to tune out.

Many CTV platforms have fewer ad breaks and alert viewers to the length of the ad break.

Viewers may be using this time for a break of their own.

CTV advertisers are buying on audience alone, and not able to match their creative to specific content.

CTV platforms provide a low barrier of entry for advertisers who want to make the leap between digital video and TV. In some cases, they may not deliver the same high-quality ads as traditional TV advertisers.



That said, some brands are leading the way with effective CTV advertising, achieving attention scores that outpace industry averages. Our CTV Advertising Report identifies the brands that are breaking through to capture attention best across many industries - including auto, food & beverage, consumer products and more.
Here is a look at the top CTV advertisers in finance, retail and services, according to their ability to capture viewer attention, for 2021.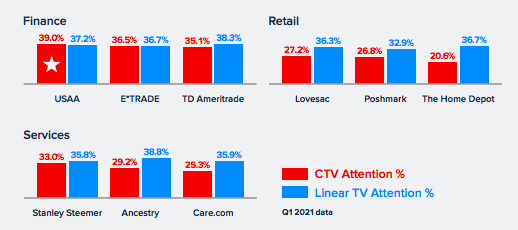 TVision's data can help advertisers benchmark their performance against their industry, and learn best practices from CTV advertising leaders. To see more industry data, including the health, auto, CPG and the food & beverage industries, download our full report.