Why CTV Co-Viewing Matters
Viewers are spending more time than ever streaming content across a growing number of CTV apps. But most media buyers and sellers of today's CTV inventory still use a standard multiple for Co-Viewing across all impressions—regardless of the app or what content viewers are watching. To engage this increasingly connected audience, the industry needs more than one-size-fits-all metrics. They need to know definitively how many people are in the room, who they are, and who among them is paying attention. After all, households don't watch TV—people do.
That's where TVision's insight into CTV Co-Viewing comes in.
Co-Viewing rates provide a crucial distinction between household and person-level viewing with insight into the real reach of CTV programming. They also serve as a multiple that can help both marketers and platforms better value their CTV ad inventory. To illustrate just how much co-viewing matters for CTV, we've included a preview of some must-know insights from our new CTV Co-Viewing Report.
Co-Viewing Varies Significantly Across Apps
Overall, viewers are more likely to watch CTV content with friends and family than Linear TV. But not all CTV ad inventory offers the same co-viewing potential. In fact, the most co-viewed CTV apps draw in twice the average number of viewers compared to the least co-viewed. Given the significant range in co-viewing across apps, accurate Viewers per Viewing Household (VPVH) calculations are critical for both media valuations and measurement.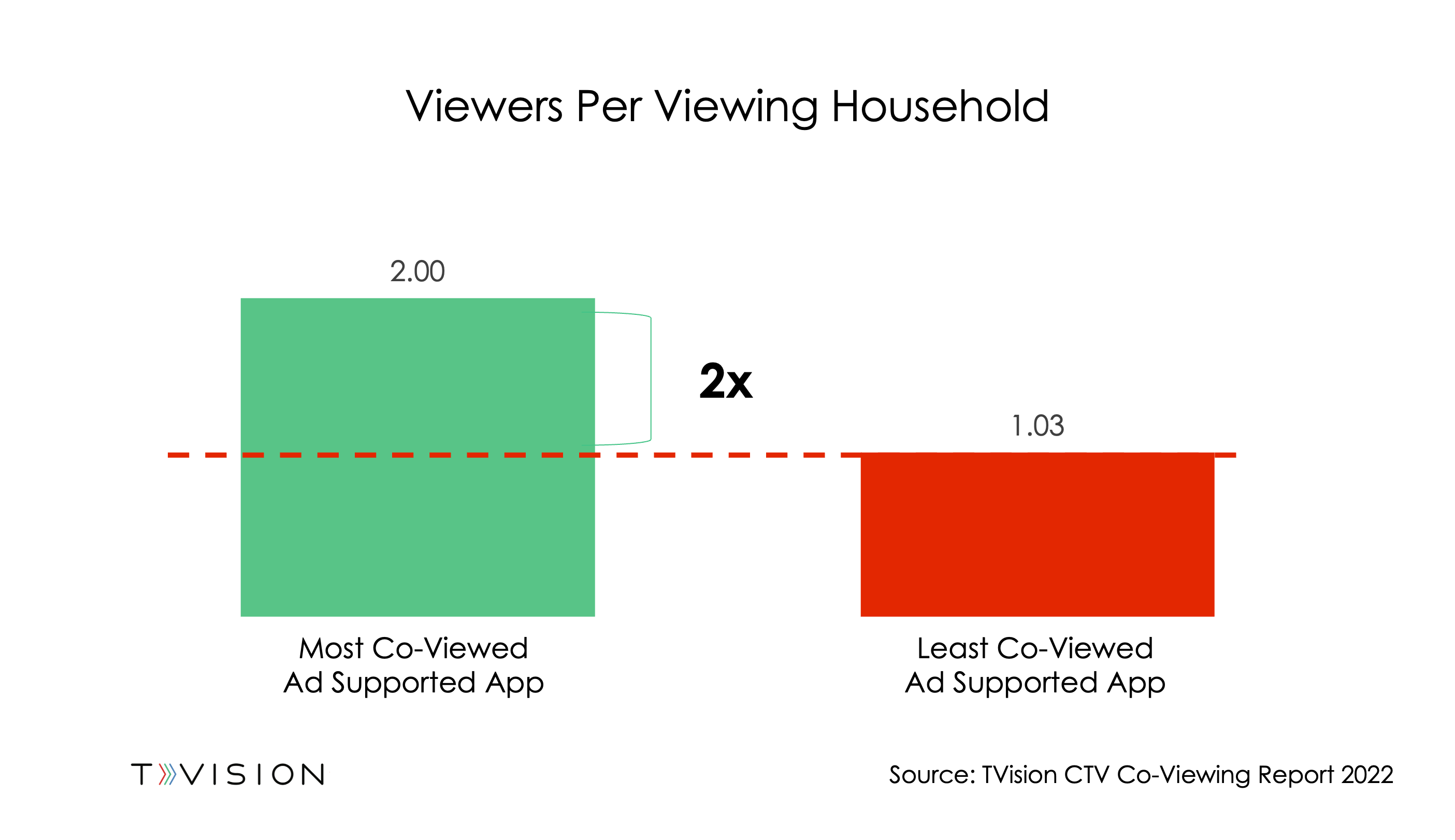 For advertisers and brands looking for a reliable multiple, we've included the top five CTV apps by VPVH where brands ran ads in the second half of the year. Note, for this list, we looked at Apps with a share of time spent greater than 1%. Ranking for all CTV apps is available on TVision's CTV Analytics Platform.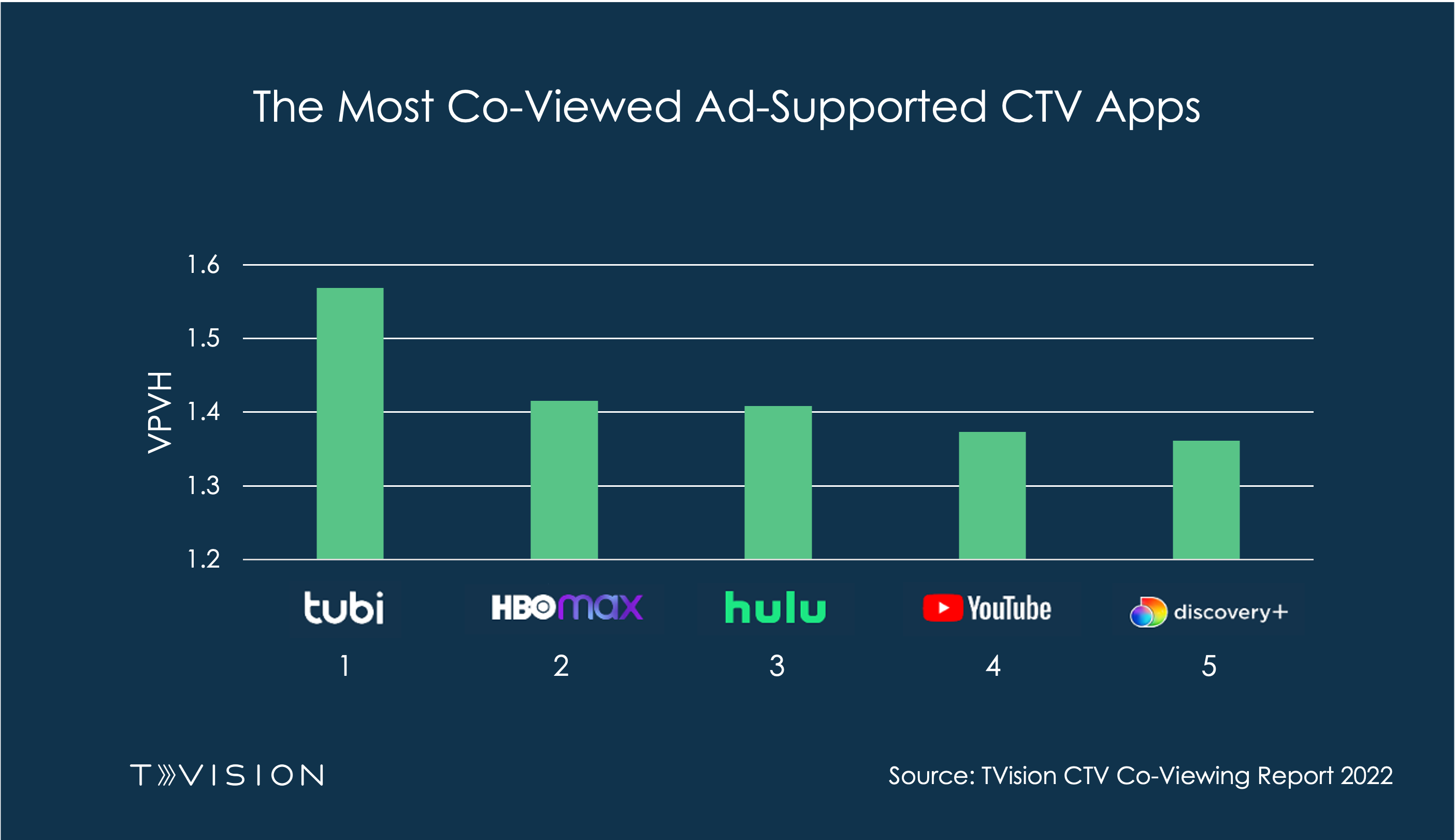 Movies & Family Programming Draw Crowds
Overall, movies garner higher co-viewing rates than TV episodes. This holds true for the list of the most co-viewed programs across ad-supported CTV apps, which was dominated by family-friendly movies—for example, The SpongeBob Movie: Sponge on the Run, The Boss Baby: Family Business, and Paw Patrol the Movie. Family-friendly TV shows such as HBOMax's Esme & Roy also topped the list. That said, some Reality TV programs like BattleBots Bounty Hunters on Discovery+ broke through the top five list.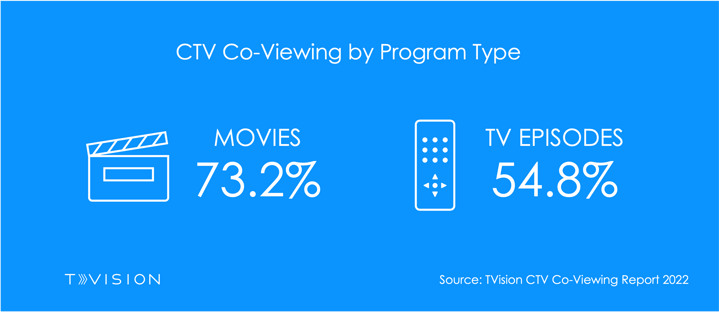 Get More CTV Co-Viewing Insights
Want to learn how having multiple viewers in the room impacts attention or which demographics pay the most attention when they're co-viewing?
These insights and more download TVision's full CTV Co-Viewing Report. Download it today!