As CTV walled gardens emerge, TV advertising teams find themselves facing many of the same measurement obstacles as their digital counterparts. After all, walled gardens are a challenge for advertisers across the ecosystem. When platforms maintain tight control over their own performance data, it is difficult for marketers to effectively compare campaign performance, inventory value, and more.
CTV advertising and brand integrations are exploding in popularity. As budgets shift from linear TV to CTV, markets often find themselves making decisions without a complete understanding of the opportunity. For instance, without the ability to conduct apples-to-apples comparisons of campaign performance across AVOD apps, it can be difficult for marketers to effectively plan, measure, and optimize their results. TVision's tag-less CTV data allows marketers to better compare engagement and performance across applications - even walled gardens.
In our recent CTV Advertising Report, we highlight key trends that help shed light on CTV's walled gardens. In this blog, we'll map out the top AVOD apps for both share of time spent and co-viewing.
While Netflix and other SVOD apps still dominate CTV viewing, a few AVOD apps also stand out for share of time spent. In Q1 2021, viewers spent more time on YouTube and Hulu than any other ad-supported platforms, suggesting that advertisers can find large audiences on these applications.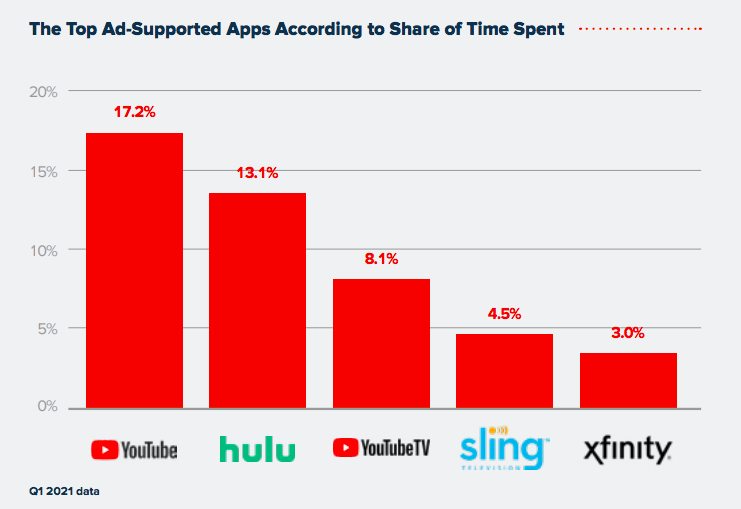 Another important metric for advertisers is co-viewing, as it accounts for the true number of people in the room that advertisers can reach with their ads. In Q1 2021, viewers were most likely to co-view YouTube and the sports-heavy SlingTV. In fact, 44.1% of all times viewers watched YouTube TV more than one person was in the room.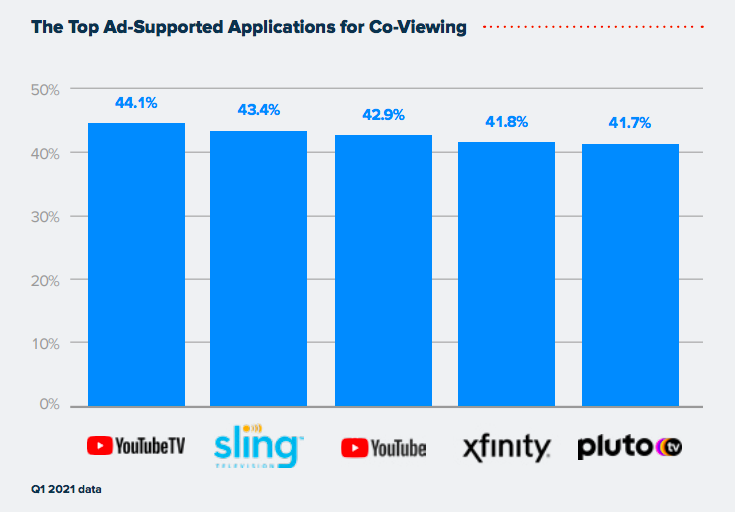 Advertisers can use this data to inform their CTV ad investment strategies. The applications that capture the most viewer engagement present more opportunities for ad impressions to reach their target audience.
For more analysis of CTV advertising, download our full report.