Finding the Most Engaged Live TV Viewers this Upfront
Live television has historically been a significant part of the Upfront, and with this year's Upfront season underway, all signs indicate that 2022 will be no exception. Since the start of the pandemic, viewers have been paying increasingly more attention to programming across linear TV—including several of the most important live categories. Previously, we discussed how to engage viewers in the first of these categories, live sports. This week we'll turn our attention to news programming, which quickly outpacing the overall linear averages for Attention, and reality TV.

For buyers who want to make the most of this growing opportunity to reach live TV viewers, it is important to fully understand which live TV media investments pack the biggest punch for engagement. Read below for some insights on who is paying attention to news and where, how, and when to best engage these audiences from our new Upfront Planning Guide. You can also sign up today for a free brand-specific 1:1 planning workshop to receive a custom Upfront diagnostic and action plan, including a preview of your brand's top five opportunities for attention.
News Attention in an Election Year
With the start of the pandemic and a presidential election year, time spent watching the news spiked in 2020 and remained high in 2021. Much of this engagement was driven by people age 35 and up, as attention paid to news programming in proportion to the total episode generally increases with age.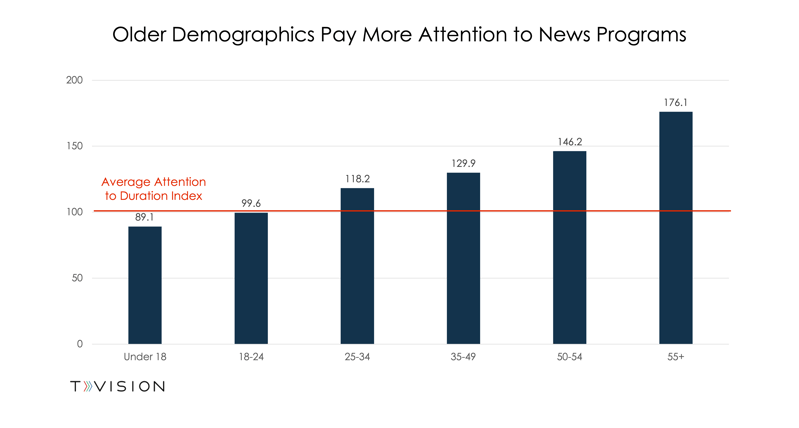 With this year's midterm elections on the horizon and recent turmoil in Europe, viewers have plenty of reason to keep their attention on the news. Although we're not in a presidential election cycle, marketers can look to the 2020 cycle to see when Attention is likely to be highest as we enter another election year with several critical seats up for grabs.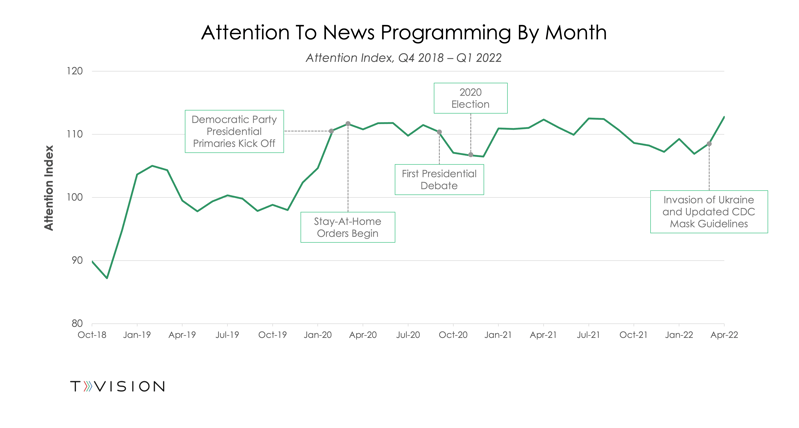 From late 2019 to early 2020, Attention quickly spiked as viewers tuned into pandemic coverage and the presidential primaries kicked off. Attention remained high through the presidential debates but decreased slightly in November and December as election excitement began to settle. For marketers looking to optimize their news spend during this year's upfront, the earlier you can get in front of viewers during the election cycle, the better.
When looking at major news channels across broadcast and cable, many networks like ABC and NBC closely followed the general attention cycle observed on average across all linear news channels. However, there are some notable exceptions. For instance, Fox News has seen greater fluctuations in average attention—possibly indicating differences in which news stories drive attention for conservative audiences. In contrast, attention to CNN has remained relatively flat.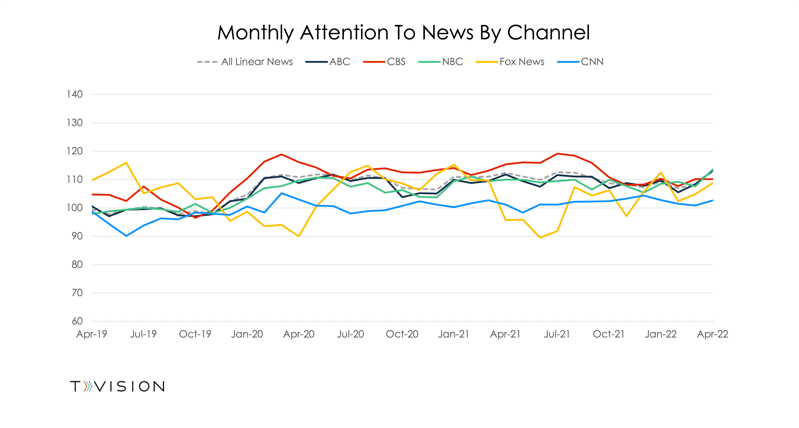 Reality vs. "Reality"
Even as the national focus turned to the news, the pandemic also seems to have inspired viewers to escape into an alternate kind of "reality." Reality TV shows consistently capture more attention than news programming and have also experienced a jump in Attention starting in 2020.
However, it's worth noting that news programming generally rates higher for Viewability metrics - indicating that news keeps viewers in the room more effectively even if they may be more distracted.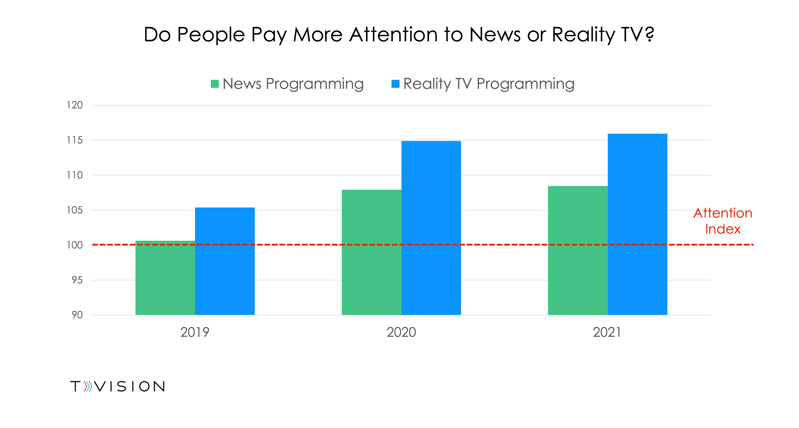 Want More Must-Know Upfront Insights?
The Upfront may be transforming, but attention data provides the transparency needed to navigate the changing landscape with confidence. Both marketers and media sellers can improve the Upfront process by better understanding the value of each impression.
For more actionable insights, download the full Upfront Planning Guide or check out our other Upfront blog posts on Attention as a cross-media metric that goes beyond traditional ratings, how to engage live sports viewers, and navigating the CTV landscape.
TVision is offering free 1:1 planning workshops to help you maximize the impact of your Upfront. Marketers will receive a custom Upfront diagnostic and action plan, including a preview of their top five opportunities for attention. Sign up today to claim your spot.