In the battle for brand TV engagement, you cannot ignore engagement like Attention and Attention specifically. And as you may already know, these vary by many factors, including industry. But regardless of the type of product or brand, understanding the top brands is key to understanding performance.
Which brand advertisers target their spends for the biggest results? We wanted to know. So we got to work using our second-by-second, person-level data to find each industry's champions of Ad Attention from the first half of 2019. Let's take a closer look at some of the verticals in question.
Remember, Attention refers to the percentage of impressions where viewers were in the room during their ads, while Attention refers to the Attention paid during the ad's runtime itself. You can't have one without the other.
CPG Brands
As with many other verticals, CPG brands often saw a discrepancy between a brand's Ad Attention and Attention. One of the biggest gaps here was in the food & beverage vertical, with San Pellegrino delivering sky-high Attention at 77.5%, but relatively low Attention at 40.7% -- lower than Sargento, CLIF, Daisy, and Toffifay.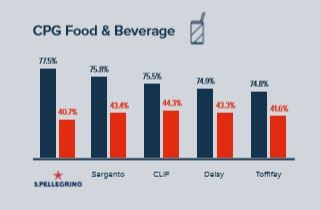 Telecom
Telecom brands were at the top of the heap in Ad Attention; the champ of all verticals was T-Mobile, with a robust 79.4% rating. Interestingly, chief competitors Verizon and AT&T didn't even appear within the top 5 of our analysis.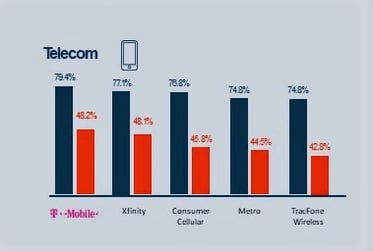 Consumer Tech
Consumer tech brand leaders offered few surprises, with Apple and Microsoft neck-and-neck for Attention at 76.6%. Facebook followed, ahead of Samsung and Amazon, but intriguingly, had the lowest Attention at 44.1%.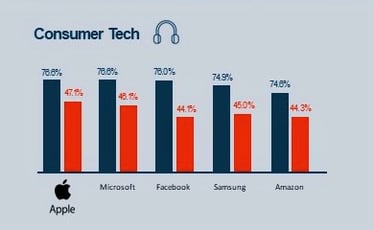 DTC
The direct-to-consumer brand battle had a winner in Stitch Fix, whose Attention was solidly ahead of Ring, Wayfair, ThirdLove and Ancestry.com at 75.6% Attention and 45.3% Attention. Interestingly, home-related brands (fashion, decor and security) dominated the top here while Ancestry.com held strong in the ratings.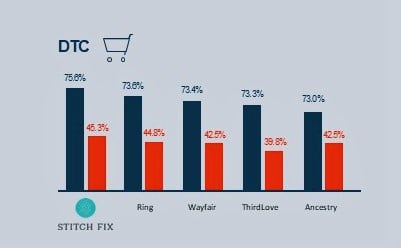 Restaurant
Name-brand restaurant chains took the top 5 in the restaurant vertical, with Starbucks solidly ahead of the rest at 75.9% Attention and 43.4% Attention. Panera Bread, Chili's, McDonald's, and Little Caesars followed at similar rates, with second-ranked Panera featuring the lowest Attention of the top 5.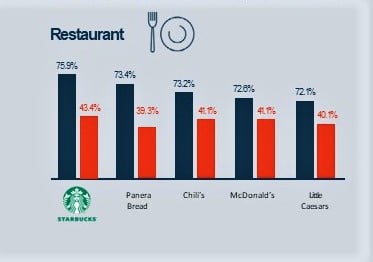 Travel
The champs of the travel vertical revealed an interesting mix of airline brands, destinations, hotels and more. Comfort Inn was the heavyweight in this vertical, winning at both Attention (77.6%) and Attention (46.2%). Destinations like SanDiego.org and Universal Orlando also performed strongly.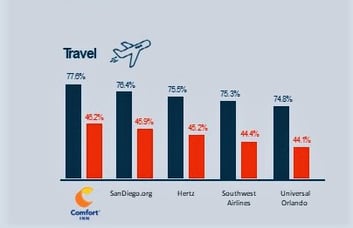 =
Discover more about these and other verticals by downloading our H1 2019 TV Engagement Report. And let's talk about how our insights can deliver practical, actionable solutions to grow your brand presence and success.