By Tristan Webster, VP of Client Solutions
Over the weekend, and for the first time in the tournament, both games went according to the script. The favorites were comfortable winners and the nation is now ready to cheer on their champion. Will it be the Michigan Wolverines or the Villanova Wildcats?
When it comes to attention, Saturday was precisely what one might expect from two primetime games with significant interest, but little excitement: above-average attention without reaching the lofty heights of earlier rounds.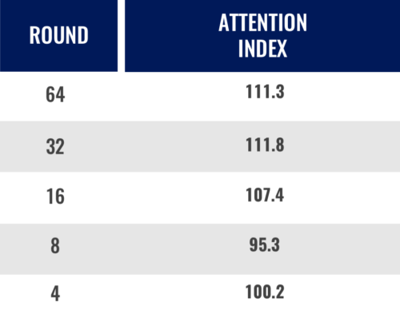 Advertising in tonight's big match?
Root for Michigan and the upset. Upsets resulted in 19% higher attention during the rounds of 64 and 32, and 21% higher attention during the Sweet 16 and Elite 8. If Michigan can get hot from behind the arc and cut down the net in San Antonio, you'll have America's attention.
Looking for attention insights from prior rounds?