At TVision we are not in the business of predicting which shows will win an Emmy, but we are in the business of measuring every second of viewer attention to TV and CTV. We thought it would be fun to see how the streaming shows nominated for Emmys in the Outstanding Comedy, Drama or Limited Series categories captured viewer attention.
Tune into the Emmys on CBS, Sunday, September 19 at 8:00 pm to see if the Television Academy's awards for the top shows mirror how regular viewers pay attention to TV.
The Streaming Winners According to Attention
We measured overall attention for each season (or limited series run) for the nominated streaming TV programs. Below we highlight each streaming show's Attention Index. They're benchmarked against the average attention paid to linear TV shows - the basis for the 100 index score. It's worth noting that typically streaming television keeps viewers' attention at a higher rate than broadcast TV. This is, in part, due to the more intentional nature of viewing of streaming TV.
HBO Max's "I May Destroy You" and "Mare of Easttown" Captured Attention Best Among Miniseries
Randee Dawn of the Today Show expects "The Queen's Gambit" to edge out "Mare of Easttown" for the win in this category, but audiences paid the most attention to "I May Destroy You" (144.4 on the Attention Index) on HBO Max.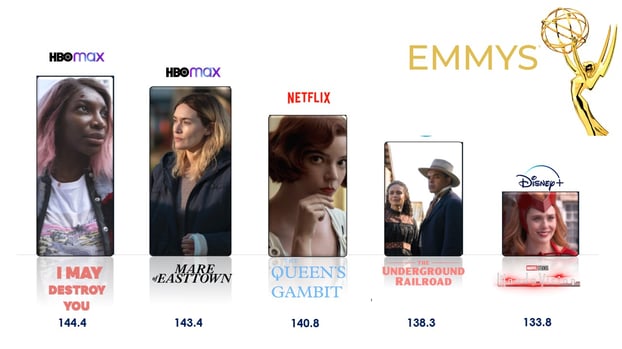 HBO Max Leads Again with "Hacks", for Outstanding Comedy
Deadline's Pete Hammond predicts that AppleTV+'s "Ted Lasso" will win this one. While "Ted Lasso" came in third on our list of streaming shows for Outstanding Comedies for attention, he does appear near the top of our binge list and the show has been a major boon for AppleTV+ audience engagement.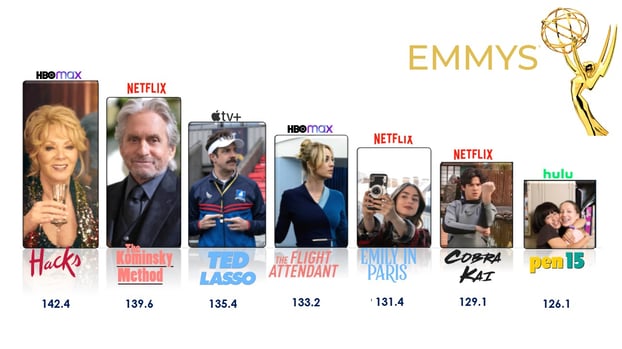 Prime's "The Boys" Leads all Nominated Streaming Dramas for Attention
Clayton Davis at Variety expects "The Crown" to take the title, as part of a big night for Netflix, but "The Boys" on Amazon Prime, topped our Attention index with a 144.4.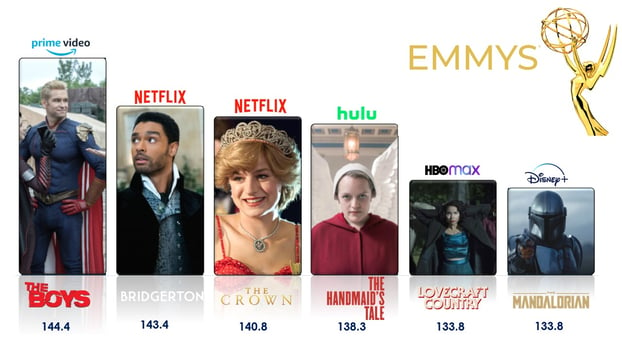 What shows did you pay attention to this year, and which do you think will win on Sunday? Check back next week when we will analyze whether consumer viewer attention metrics and Emmy accolades aligned.