By Rick Porter
Originally published in TV by the Numbers.
Seventy scripted shows have premiered on the broadcast networks in the first few weeks of the 2017-18 season. In terms of Nielsen ratings, "Great News" lies in the middle of that pack.
The NBC comedy drew a 1.3 rating among adults 18-49 for its season premiere on Sept. 28. That puts it in a tie for 26th place among the 70 premieres, along with nine other shows. Not terrible, but nothing special either.
In terms of how closely people watched, however, "Great News" ranks No. 1 among all 70 of those shows. Similarly, "Ten Days in the Valley" — among the lowest-rated debuts so far this season, drew much higher viewer attention than average.
That's according to data from a company called TVision that measures how attentive people are while watching TV.
For the past couple years TVision has been measuring what it calls "eyes on screen" attention to TV shows. The company currently has a panel of about 2,000 homes (and 7,000 people) in the top 8 TV markets who have allowed TVision to place small devices on top of their TVs that track second-by-second attention to the primary screen in the room.
Essentially, panel members have opted in to let TVision watch them watch TV. (TVision says it passively gathers eyes-on-screen data, and that the demographic profile of panelists in each city matches that of the market.)
The company's "Attention Index" shows which programs rank highest in that metric. Here are the three most attentively watched premieres on each of the English-language broadcast networks so far this season, on a scale where 100 is average.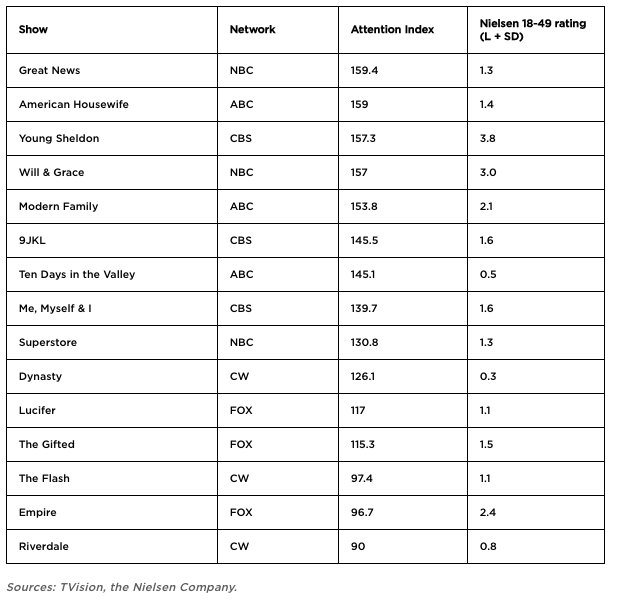 Obviously, TVision's and Nielsen's numbers don't exactly match up. "Young Sheldon," "Will & Grace," "Empire" and "Modern Family" were among the higher-rated premieres on their respective networks, but the other Big 4 entries are, at best, middle-of the-pack Nielsen shows. (The CW's two highest-rated premieres, "The Flash" and "Riverdale," did make TVision's list, but with below-average attention scores.)
Where Nielsen measures the number of people who tune into a given show, Tvision co-founder Dan Schiffman says his company measures the quality of that viewership — whether a show keeps viewers from looking at their phones or wandering away, and whether commercials hold viewers' eyes.
Schiffman says Tvision sells its data to networks, brands and ad agencies. Its key insight, according to him, is "what type of content gets people to not look at their phones."
"If the content is that good, you're probably not going to look down at your Instagram notifications," he says.
TVision's research suggests, not surprisingly, that when viewer attention does wander, it tends to go to a second screen. What's unclear is whether a viewer of, say, "Great News" or "Ten Days in the Valley" is less likely to have another screen at hand in the first place.
Broadcasters are also still (mostly) in the volume business, so super-attentive watching by a relative handful of people isn't necessarily going to be a saving grace for low-rated shows. But it could become another tool in the box of network research.