With all the things that have been different over the past year, one thing remained the same - the Super Bowl is still the ad industry's biggest night. According to TVision, ads from State Farm and Tums captured our attention best. Super Bowl rookie, Reddit, captured Attention in major markets with its five-second ad.

How we watched the game may have been a little different this year, as well, as viewers continue to embrace streaming. TVision's data shows that more than 20% of all households with streaming access chose to watch the game that way. Most streamers were regular viewers of NFL games.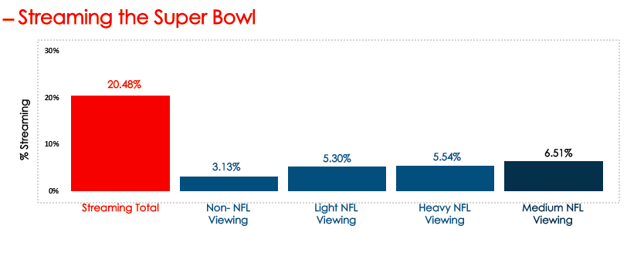 With social distancing still the norm across America, we were interested to see the effect on Super Bowl parties. While co-viewing varies across network and daypart, the average co-viewing factor for TV is 1.2-1.3. But the Super Bowl traditionally outperforms for co-viewing, putting more people in the room. In fact in 2020, the co-viewing factor was 2.0. This year it dipped to 1.8 suggesting that our Super Bowl parties were smaller this year. Overall, 29.1% of the time households tuning into the Super Bowl had 2 or more people in the room.
Not mentioned in the Top 5 and want to see where your brand ranked? Interested in learning more about streaming measurement? Contact us.