Discover Card: How one brand balanced engagement and branding on TV for peak attention
For most TV advertisers, knowing how to strike a balance between engaging content and branding is key. TVision second-by-second attention data helps brands understand how attention peaks and wanes throughout their creative messaging.
In the case of Discover Card, the brand wanted to let consumers know about its identity theft protection alerts. To do so in a reassuring and engaging way, they created an amusing ad where a young woman receives an alert that her phone has accidentally butt-dialed her ex. At peak frantic reaction, attention spikes dramatically. If you're Discover Card, how do you best take advantage of that peak in attention?
Check out the commercial here:
Using our attention data, we watched that massive spike occur, followed immediately by Discover Card branding for its free Social Security protection alerts. While attention did decline, this was a smart move, as Discover Card was able to capitalize off of the eyes-on-screen attention while it was at its highest.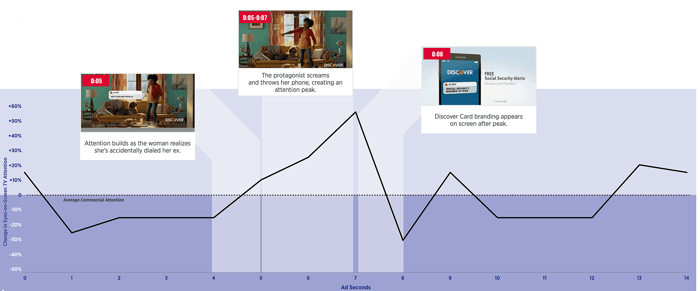 In addition, thanks to including the company logo in the right-hand footer of the screen during the ad's earlier high-interest segments, Discover Card ensured its branding was seen when viewers were paying the most attention.
With new insights imparted by our second-by-second analysis, Discover Card can capitalize upon its audience attention knowledge to put the successful, attention-grabbing storytelling elements of future campaigns front and center.
Learn more about our viewer attention studies with Discover Card—Download TVision's Q3 2018 Eyes-on-Screen TV Attention™ Report.