We all know that ads work best if people are paying attention. We also know that viewer attention can be difficult to capture in an increasingly distracted media landscape. At TVision, we measure if TV viewers were in the room, and if they were paying attention to the content and ads. It takes great creative to keep viewers engaged during ad breaks. For these awards we highlight the brands and specific ads that broke through to capture attention.
These are the brands that best captured attention in 2021. And by the way, if you are looking for the top streaming or linear TV shows of the year, or the best apps for ad attention, we have those lists for you, too.
The Top 5 Brands for Ad Attention in 2021
Ad Attention defines how well a brand or program is able to engage an audience with its advertising. A lot of factors go into an advertiser's ability to capture attention. The media plan, the creative, contextual relevance, and the network and daypart all play a role in keeping a viewer in the room with their eyes on the screen during commercial breaks.
Across all brands in 2021, these are brands that best captured audience attention throughout the year. Congratulations to Cologuard, Aspen Dental Management, Courtyard, Apple and Merck!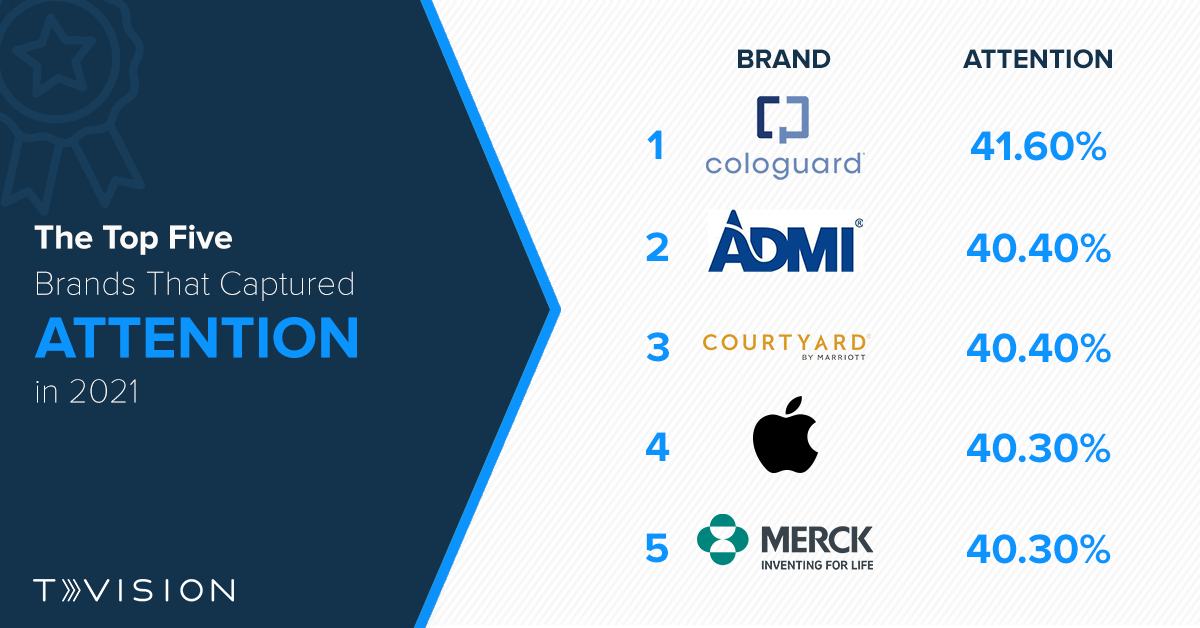 You'll note there is only a small difference in Ad Attention rates listed above, but even a small increase in attention can produce significant results. When brands optimize their campaigns for attention, every incremental improvement translates to significant efficiency gains and greater value from their ad investments. As an example, in the Fall of 2021 a major brand optimized its committed Upfront advertising plan for attention and recorded a 1% increase in overall attention. That 1% increase represented an additional 4.4 million attentive impressions and a reduction in almost $300,000 in wasted inventory - in just 17 days! We've also seen that advertisers who optimize for attention see a nearly 4x increase in brand recall.
Want to see the top advertisers for Ad Attention per industry? You can find them here: Auto, Consumer Goods, Cosmetics and Hygiene, Electronics, Entertainment, Food and Beverage, Health, Home and Garden, Legal, Financial and Insurance, Restaurants, Travel and Telecommunications.
The Top 5 Ads for Attention in 2021
We also took a look at which specific creative best-captured audience attention in 2021. TVision's Creative Attention Score (CAS) identifies the ability for a specific piece of creative to break through and capture attention. The Creative Attention Score is an index that compares an ad's performance to other spots within its pod. The average ad within the pod scores a 100. That means an ad that scores a 106 is capturing 6% more attention than the average ad.
These are the ads that achieved the highest Creative Attention Score of 2021. Congratulations to SmartWater, Verizon, Oreo, Intuit and Cheetos!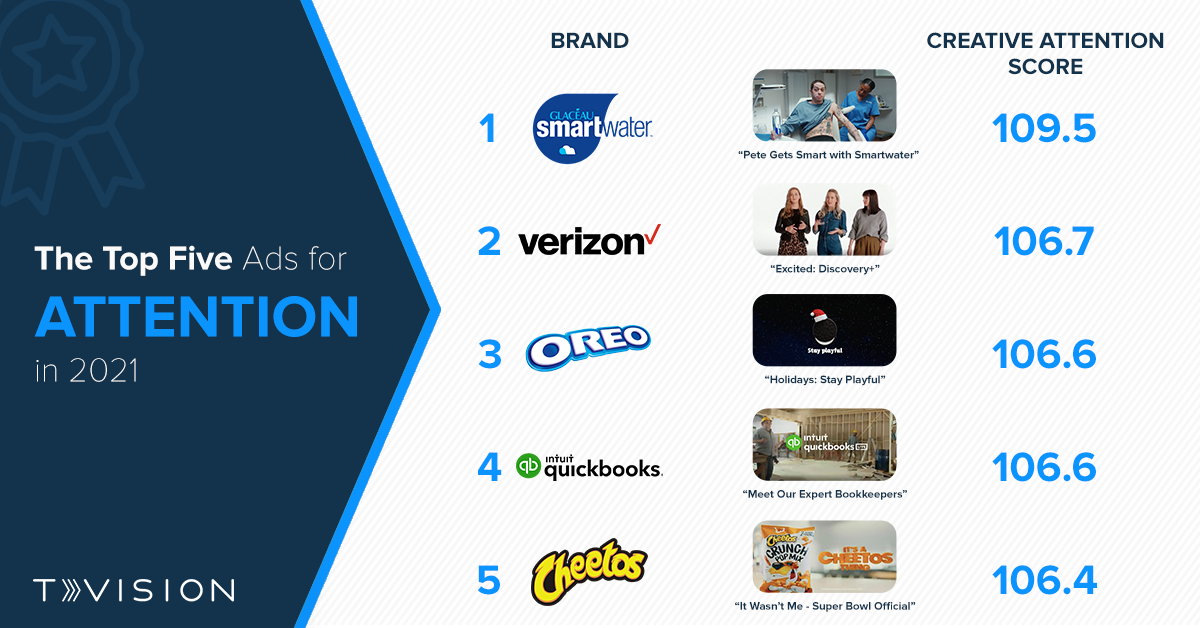 And because TVision knows which members of a household are in the room when the ad is viewed, we can also provide insight into how ads performed with specific demographic groups. Here are the top ads for females and males.
The Top 5 Ads for Attention from Females in 2021
These are the ads that achieved the highest Creative Attention Score with females in 2021. Congratulations Etsy, Glowforge, Everlywell, Cheetos and Delta Faucet!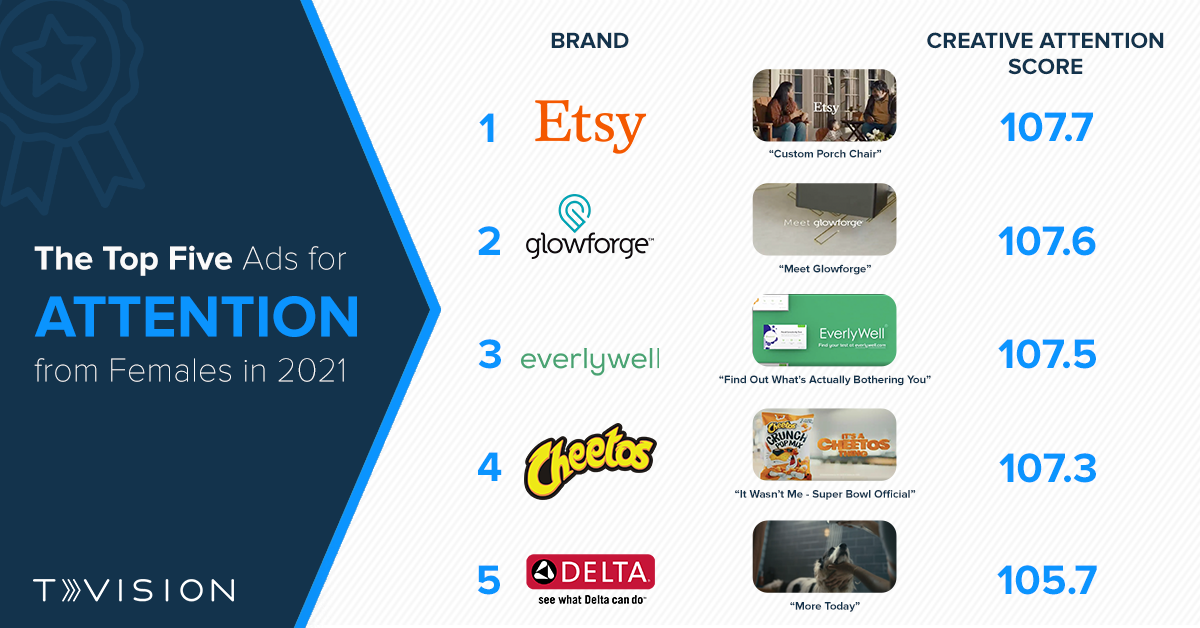 The Top 5 Ads for Attention from Males in 2021
These are the ads that achieved the highest Creative Attention Score with males in 2021. Congratulations Subway, Verizon, Best Buy, and 20th Century Studios!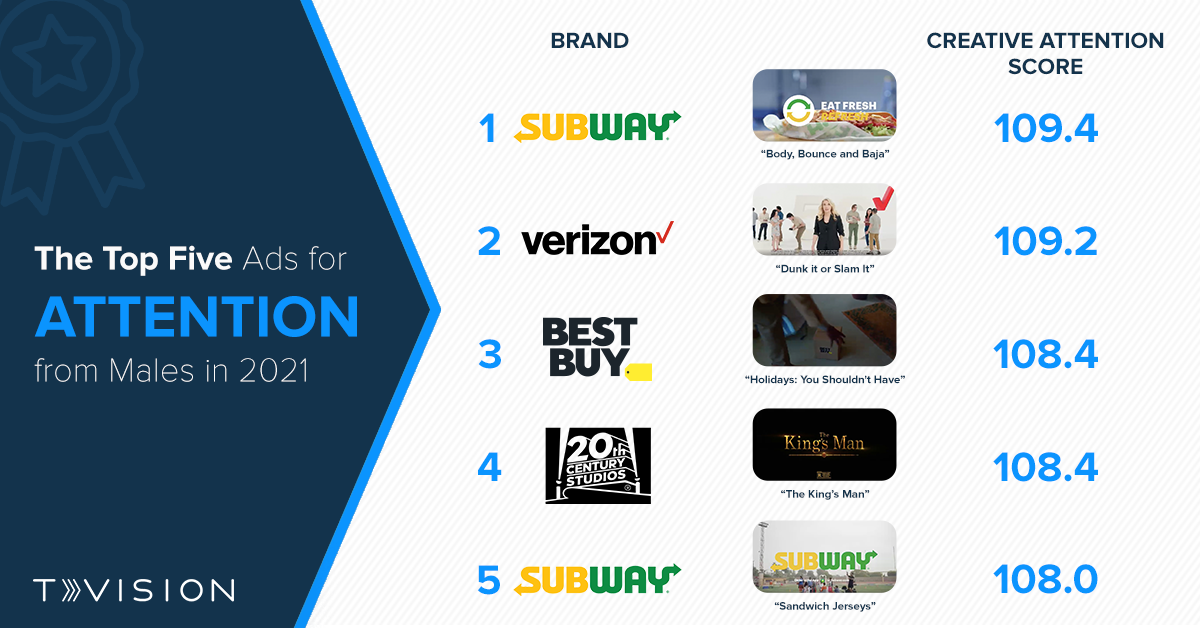 Don't forget to check out the rest of the TVision Top Five for 2021, here.