Where advertisers found engaged audiences on broadcast and cable in 2021
While streaming television gets a lot of the industry buzz, it's hard to overlook the fact that traditional linear television viewing still represents more than 86% of all TV watching in the United States. There is great television on broadcast TV and it offers plenty of opportunities to reach engaged audiences with advertising.
At TVision we measure Ad Attention, a metric that defines how well a brand or program is able to engage an audience with its advertising. A lot of factors go into an advertiser's ability to capture attention. The media plan, the creative, contextual relevance, the network, and daypart all play a role in keeping a viewer in the room with their eyes on the screen during commercial breaks. Some programs achieve higher viewer attention than others, in fact, the most attentive shows deliver more than twice as much attention as the lowest-performing shows.
Here we salute the five primetime programs for broadcast and cable that delivered the best Ad Attention week in and week out during 2021.
(By the way, if you are looking for the top streaming shows of the year, the most engaging and co-viewed apps, and the top brands that breakthrough to capture attention, we have those lists for you, too.)
The Top 5 Shows for Ad Attention on Broadcast TV in 2021
Congratulations to CBS and CW! These two networks accounted for all five programs that made the list of best shows for ad attention in 2021. CBS' Young Sheldon, CW's World's Funniest Animals, B Positive (CBS), Charmed (CW), and Mom (CBS) kept audiences entertained and engaged in 2021.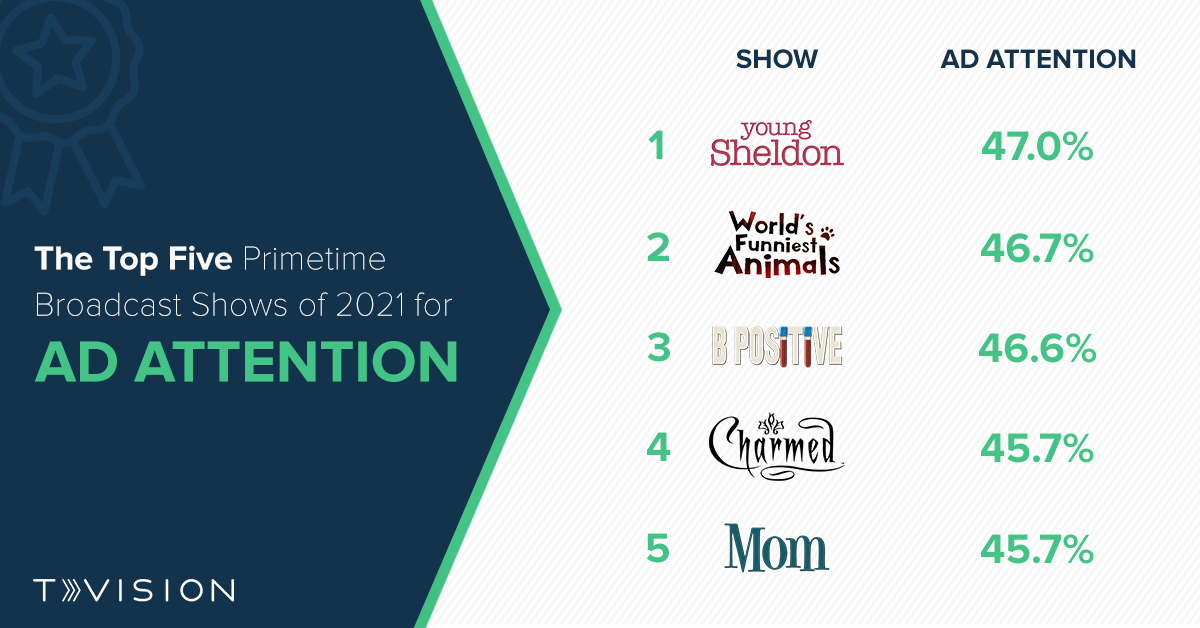 The Top 5 Shows for Ad Attention on Cable TV in 2021
Cable programming traditionally delivers higher attention audiences than broadcast because the audience is more intentional. These programs represent great opportunities to reach niche audiences in a highly engaged environment. The top primetime cable shows for ad attention represent a wide range of programming from documentaries, to reality shows, to cartoons. Congratulations to Bringing Up Bates on UpTV, Race to the Center of the Earth on National Geographic, MotorTrend's Iron Resurrection, Meerkat Manor: Rise of the Dynasty on BBC America, and Rick and Morty on Adult Swim.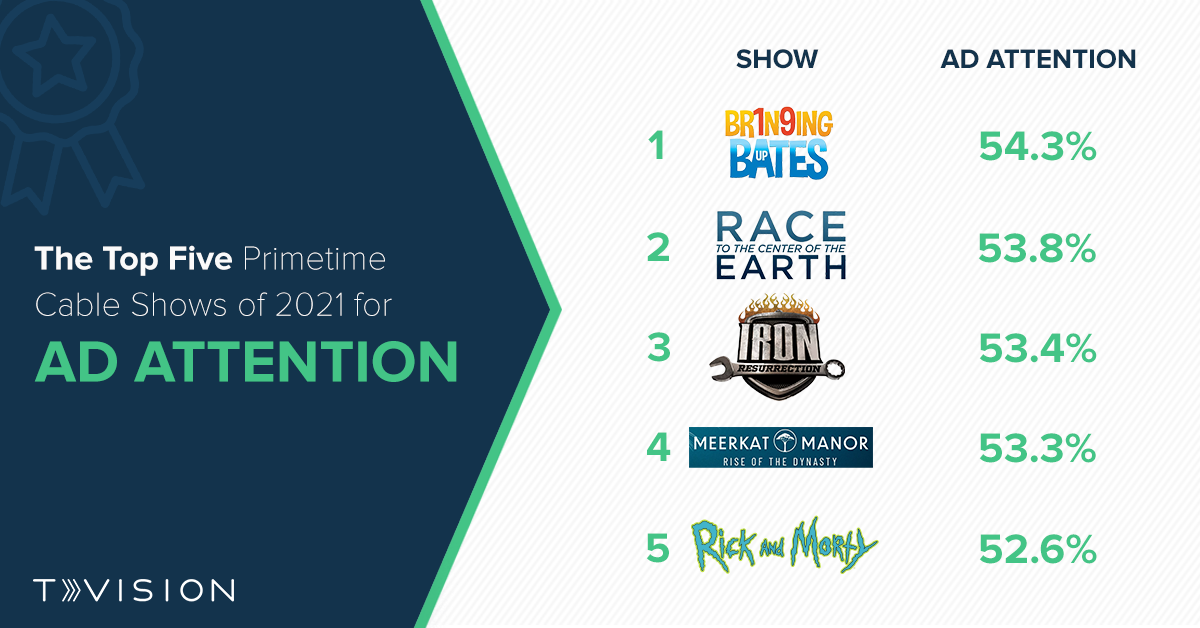 Don't forget to check out the rest of the TVision Top Five for 2021, here.