All eyes in the industry are on the CTV advertising opportunity as marketers follow their audience to streaming platforms. TVision's 2021 State of CTV report reveals that in Q3 of 2021, viewers spent more time on AVOD apps than SVOD, suggesting viewers are not as hesitant as some feared to watch ad-supported CTV content.
At TVision, we measure which TV viewers from a household were in the room and if they were paying attention to the TV content and ads. As marketers try to assess their CTV opportunity and create equal comparisons with linear TV, two TVision metrics are especially helpful: Ad Attention and Co-Viewing. Ad Attention identifies which CTV apps provide the most engaged ad audiences, and Co-Viewing provides a multiple that can help marketers and platforms better value their CTV ad inventory.
Here we reveal the top apps for Ad Attention and programs for Co-Viewing. And by the way, if you are looking for the top streaming or linear TV shows of the year, and the top brands that breakthrough to capture attention, we have those lists for you, too.
The Top 5 Apps for Ad Attention in 2021
Ad Attention defines how well a brand or program is able to engage an audience with its advertising. A lot of factors go into an advertiser's ability to capture attention. The media plan, the creative, contextual relevance, and the app, network, and daypart all play a role in keeping a viewer in the room with their eyes on the screen during commercial breaks.
Our first annual Top 5 Apps for Ad Attention in 2021 is a mix of leading AVOD and dMVPD providers. Congratulations to AT&T Now, Xfinity Stream Beta, Hulu, Peacock and FuboTV.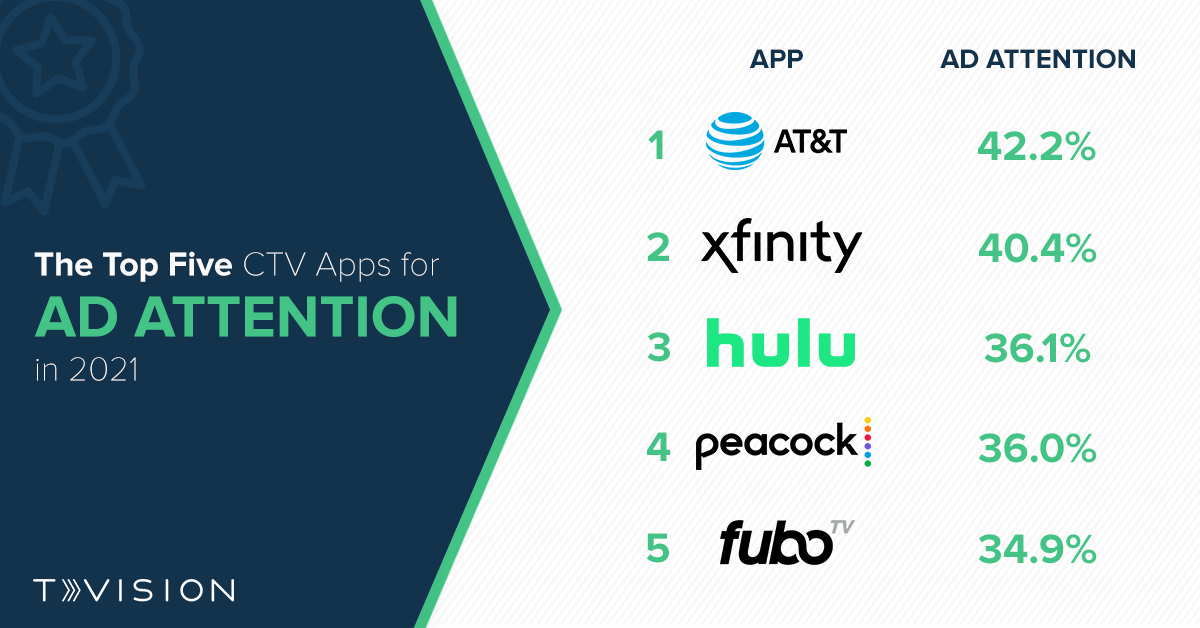 The Top 5 AVOD Programs for Co-Viewing in 2021
As the industry continues to define appropriate metrics for measurement of CTV, program and app co-viewing rates have emerged as critical insights for understanding an opportunity's true reach. TVision's co-viewing rate measures the percent of viewing sessions that occurred with more than 1 person in the room to view the program.
These are the top ad-supported programs for 2021 for audiences over 18 as measured by their Co-Viewing Rate. Congratulations to 90 Day Fiance: Before the 90 Days on Discovery+, High Fidelity on Hulu, The Laundry Guy on Discovery+, Kamp Koral: SpongeBob's Under Years on Paramount+ and A.P. Bio on Peacock.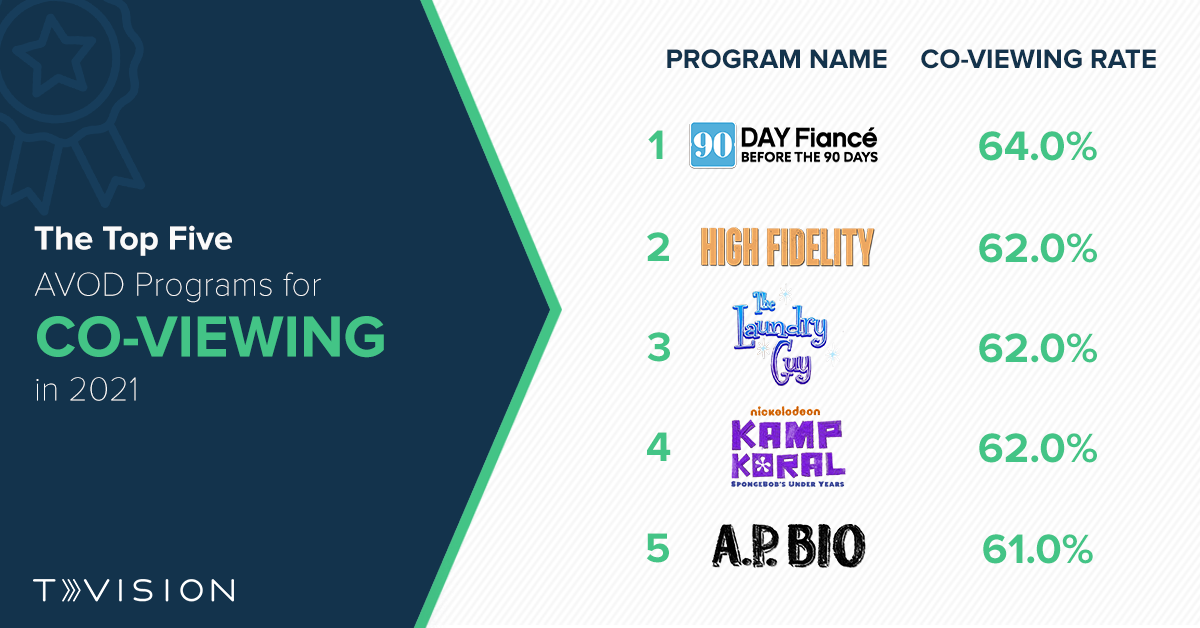 Don't forget to check out the rest of the TVision Top Five for 2021, here.